Dubai embraces Chinese celebrations as tourist numbers rise by 25%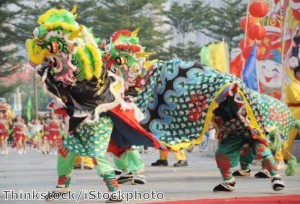 Over 300,000 Chinese tourists flocked to Dubai in 2014, and many will be staying in its hotels now to ring in the Year of the Goat.
This is according to Issam Kazim, the chief executive of the emirate's Department for Tourism and Commerce Marketing (DTCM), who last month revealed that the number of visitors from China had jumped by 25 per cent compared to 2013.
"Dubai's hotels, restaurants and shopping malls have a lot to offer in mid-February when New Year celebrations kick off," he told Xinhua, the press agency of China.
Several of the emirate's attractions - such as the iconic seven-star hotel Burj Al-Arab and the world's biggest shopping centre Dubai Mall - always prove to be popular among tourists from the east Asian country.
Over the last few years, parts of Dubai have been illuminated with symbols from the Chinese language and phrases that pass on wisdom to celebrate the New Year. Music groups from the country also make an appearance, entertaining tourists and residents alike with lion dances and traditional songs.
This year, visitors will be able to watch Kung Fu tea masters and face-changing artists at the Jumeirah Beach Hotel  if they head to Dubai during the Spring Festival, which happens between February 18th and 25th.  
Eyad Al-Kourdi, business head at credit card provider MasterCard for the UAE, said: "Chinese tourists are one of the most important pillars of tourism in this part of the world. We welcome them with open hearts and we hope they will enjoy their shopping."
During 2013, a total of 275,675 visitors from China made their way to Dubai, which is an impressive amount of traffic. Last year, this figure exceeded 340,000, according to figures from the DTCM, suggesting that more people from the east Asian country are seeing the appeal of the emirate.
Mr Kazim believes that the changes made to Dubai's visa rules, allowing multiple entries using just one visa, has helped to achieve this increase.