Dubai: Culture Vultures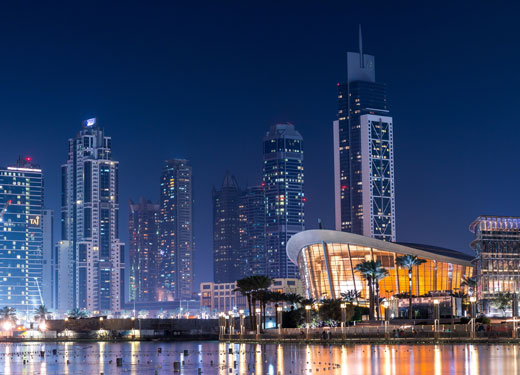 While Dubai is renowned the world over as a luxury beach destination, the city is also forging a growing reputation as a cultural and live entertainment hub. Here, we take a look at some of the city's most exciting attractions as well as some of those in the pipeline
Dubai Opera
This 2,000-seat opera house has fast become one of Dubai's most popular live events venues. The centerpiece of Emaar's new arts and culture precinct in Downtown Dubai, Dubai Opera has hosted performances from world-famous classical and contemporary musicians, as well as ballets and operas.
Coca-Cola Arena
One of Dubai's newest mega-attractions, Coca-Cola Arena is the region's largest live entertainment venue, capable of accommodating 17,000 guests. Situated at City Walk, the stadium is designed to host events all year round, from sporting tournaments to concerts, theatre productions and gala dinners. Since opening in June, Coca-Cola Arena has hosted performances by the likes of Maroon 5, Westlife and comedian Russell Peters.
Museum of the Future
The $200 million Museum of the Future project, launched in 2016 by HH Sheikh Mohammed bin Rashid Al Maktoum, Vice President and Prime Minister of the UAE and Ruler of Dubai and currently under development, will house some of the world's latest inventions in an unusual circular-shaped building. It will feature innovation labs and act as a "permanent exhibit for future inventions", according to HH.
Sheikh Mohammed Bin Rashid Library
Opened in 2017, this landmark $272 million library holds more than 1.5 million volumes, one million audio books and two million e-books, making it the world's largest electronic collection and the biggest library in the Arab world.
Dubai Design District
Known as d3 and located near Downtown Dubai, this is now the city's hub for design and creativity and features regular fashion shows and launches, as well as art exhibitions. It is also a creative hub, attracting and hosting talent from across the region.
Art Dubai
Established in 2007, Art Dubai has become one of the region's premier annual cultural events. In its inaugural year, the art fair featured installations and exhibitions in 40 galleries across the city and attracted 8,000 visitors. A decade later, more than 90 galleries were involved, with 27,000 visitors in attendance. Today, Art Dubai features contemporary and modern art from the Middle East, North Africa and South Asia, making it one of the world's most eclectic annual art fairs.
Quranic Park
Designed to provide international visitors with an holistic understanding of the Dubai's Islamic heritage, the recently opened Quranic Park is one of the city's most immersive cultural and educational experiences. Spanning an area in excess of 60-hectares, the park features two main attractions: The Glass House and The Cave of Miracles. The former features 29 plants and trees mentioned in the Holy Quran and The Sunnah, including olive trees, black fig, henna and oud. An observation deck provides views of the central indoor space. The Cave of Miracles is a man-made attraction that depicts miracles as featured in the Holy Quran.
Off the beaten track…
Alserkal Avenue
Once a district of dusty warehouses and cement trucks, Al Quoz is now home to one of Dubai's most unlikely creative hubs, Alserkal Avenue. Over the last decade, the precinct has grown to house more than 35 galleries and creative spaces. It's the place to watch local artists at work, watch an independent film at Cinema Akil, listen to Cuban jazz at The Fridge or grab an organic coffee at Appetite Café.
Dubai Coffee Museum
Located in the city's historical hub, Al Fahidi in Bur Dubai, Dubai Coffee Museum is the place for coffee aficionados to hang out and get their caffeine fix. Experts are on hand to explain coffee roasting and brewing methods, while visitors can visit a gift shop selling coffee and coffee accessories, from milk jugs to latte art pens.
Art Bus
Art Bus is a shuttle bus for art enthusiasts, providing guided tours of the city's best galleries, studios, alternative art spaces and art fairs. The bus itself has also become blank canvas on which emerging local artists have been commissioned to showcase their work – it's part of a collaboration with Dubai Culture & Arts Authority.
Dubai Pearl Museum
Located on the 15thfloor of Emirates NBD headquarters is Dubai Pearl Museum featuring one of the most valuable collections of Arabian pearls in the world. They are owned by the first chairman of the national bank, Sultan Al Qwais, who inherited the pearls from his wealthy pearl merchant father and subsequently built on the collection. These millions of pearls preserve the UAE's history prior to the discovery of oil.