Dubai Creek to be 'improved ahead of Unesco bid'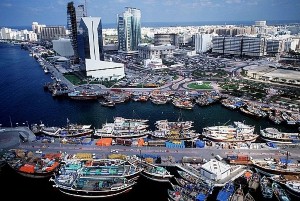 Dubai Creek, one of the oldest parts of the emirate, is undergoing improvements in an effort to be named a World Heritage Site by the United Nations Educational, Scientific and Cultural Organisation (Unesco).
The government is launching a refurbishment project, involving installing more signage, lighting, infrastructure and services, to be ready for presenting Dubai Creek to Unesco in January 2016.  
Rashad Bukhash, the municipality's chief executive of architectural heritage and a member of the Federal National Council, explained the bid that will be submitted will cover the entire historical area of Dubai Creek, including Shindagha, Bur Dubai and Al Ras.
He said that last year, the file submitted was too large by Unesco's rules, so the government has narrowed the area down and is now in the process of building evidence that demonstrates why Dubai Creek has historical and cultural value.
A team from Unesco will now visit the site in October, which will be followed by a conference to discuss the bid and announce the results.
Mr Bukhash explained that a historical area qualifies to be considered as a World Heritage Site after it has been in existence for at least 40 years, then it goes into evaluation and gets graded by Unesco experts.
If it qualifies, Dubai Creek will then be offered more protection and will likely attract more tourists than ever.
Overall, the UAE has around 3,000 archaeological sites, including 2,500 historical buildings. Of these, Dubai is home to 692 historical structures and seven archaeological sites.
"A survey done by the tourism department indicates that tourists and visitors wish to visit such areas," said Hussain Lootah, the municipality's director-general.
"So we should highlight that this area is our past, our history, and show the existing heritage, life, trade and culture here. When we conducted such surveys and analysis, we found there was a need for this."
Mr Bukhash added that the history and culture of Dubai attracts hundreds of thousands of tourists, meaning it is important to achieve the Unesco accolade by 2020, as the emirate wants to lure 20 million visitors a year by this date.