Dubai Creek in running for World Heritage status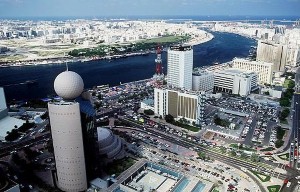 Dubai Creek could soon be named as a Unesco World Heritage site.
A Unesco team are visiting the location between October 21st and 24th to decide if the site should be given special designation. Director of architectural heritage department at Dubai Municipality Rashad Bukhash told Gulf News the Creek is in the final stages of the bid, with a final decision expected in June 2014.
If Dubai is successful with its bid, having a World Heritage site would further cement the city's international status, marking both its modern diversity and history.
Mr Burkhash said: 'Dubai Creek was nominated according to Unesco's cultural standard. Alongside the Creek and its two banks, we can find the infusion of cultures and that is very evident in the architecture of the buildings, which projects the city's cultural interaction and diversity. Over 130 years ago, Dubai used to trade with East Africa, India, East Asia and South Persia.'
According to Unesco, a heritage sight must represent historical events, traditions, activity and cultures.
These days, the Creek is a popular example of the appealing waterfront property in the city. With a growing hotel business, many prime locations, such as Dubai Marina, are making full use of the views on offer.
Earlier this month, Sheikh Mohammad Bin Rashid announced an extension project for Dubai Creek. The Roads and Transport Authority will be involved in creating a 3 km passage of water from Business Bay to Jumeirah Beach.
As the canal will go through existing areas, a new 16-lane bridge will also be built on Sheikh Zayed Road, crossing the water way. Four pedestrian bridges are also planned.
Gulf News reports the extension could reach from Jumeirah to Al Shindagha - effectively surrounding the emirate in water and turning it into a man-made island - within three years.
Achieving the status could also improve Dubai's growing international tourism industry as other World Heritage sites - such as the Great Pyramids in Egypt - are well known locations across the world.