Dubai could take Orlando's crown as king of theme parks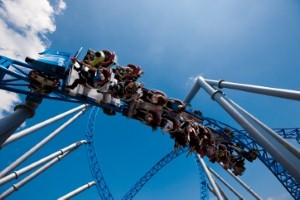 Dubai could soon take Orlando's crown as having the world's biggest theme park population, once construction on a slew of recently announced attractions is completed.
Among those that have been confirmed are parks attached to big brands, such as Legoland and Six Flags, and those that are looking to break records, including the Pearl of Dubai, which is being created by Reef World and will be the globe's largest underwater theme park.
Projects that are currently just speculative include an IMG World of Adventure, which could usurp Abu Dhabi's Ferrari World as the globe's biggest indoor theme park. The proposed venture would have four different zones, including a Jurassic Park-themed section called The Lost Valley, as well as two areas dedicated to the Cartoon Network and Marvel Comics.
Adam Alexander Page, the vice president of marketing for IMG Group, the developer behind this possible project, commented: 'We want this park to be one of the centre points in the future of Dubai. As such, you don't want to build something that won't get global attention, and if that means it's big, that's what you do. There's no point in building it small.'
Dubai Parks, which will house three theme parks, will be built just 37 miles away from Dubai International Airport, guaranteeing it maximum visibility from planes arriving in the emirate. John Gerner, a theme park consultant and the managing director at Leisure Business Advisors, believes that using international concepts, such as Hollywood and Bollywood, as themes is a surefire way to attract tourists all year round.
Patrick Douglas, the chief executive of Reef World, said: 'Dubai has an overabundance of vision." So, it is unsurprising that the company decided to pitch the idea to the emirate, knowing it would be open to big ideas and concepts.
Mr Gerner believes Dubai has the potential to become one of the world's largest markets for tourism and has aspirations of not just serving the Middle East, but the globe.