Dubai Canvas brings 3D street art to the city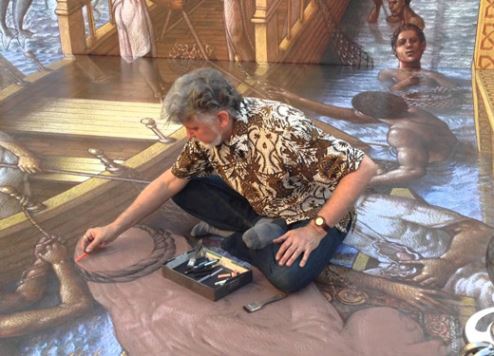 The second edition of the annual Dubai Canvas festival is well underway, with this year's installment bringing 3D art to the city for the first time.
Visitors to the event at The Beach, JBR, which kicked off on March 1 and runs until March 14, are being treated to creative optical illusions created by some of the world's best-known 3D artists.
They include the inventor of 3D street art, Kurt Wenner, an American artist who is showcasing many exclusive pieces at this year's festival.
Wenner invented 3D pavement art in 1984 inspired by the use of the 'anamorphic' perspective of the European classical masters. He created an entirely new geometry to compose images that appear to rise from, or fall into, the ground when viewed from a specific angle.
Wenner's artwork has been admired for its originality, beauty, and appeal in countries across the world and in 2014, he designed a work that earned him the Guinness World Record for the world's largest 3D painting.
Dubai Canvas is organised by Brand Dubai, the creative arm of the Government of Dubai Media Office (GDMO) in cooperation with Jumeirah Beach Residence (JBR). It aims to promote Dubai as an artist's dream holiday destination.
The event attracts art bloggers, media personalities and VIP guests.
"JBR is one of Dubai's most exciting leisure destinations for residents and tourists alike, and its unique urban vibe offers the ideal setting for the festival," said Arif Mubarak, chief executive officer of the asset management division of Dubai Properties, the developer of JBR.
Dubai Canvas 2016 features the work of more than 30 artists from 14 countries, with the exhibition spanning a 2km stretch of JBR.
The festival also offers art-related workshops and activities.