Dubai bungee jumping event draws to a close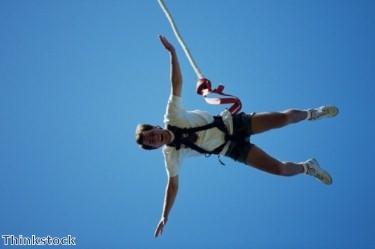 Dream Jump Dubai, which was the first event of its kind in the Gulf region, allowed people to use the latest rope jumping system to experience the sensation of free-falling from some of the city's tallest buildings. 
Over a two-week period, more than 600 jumps took place, with people from across the world visiting the emirate to take part.
Nasser Al Neyadi, chairman of event organiser Skydive Dubai, told The National: "I have base jumped in many countries but to have such an exciting event in Dubai is a dream come true."
The event follows on from Frenchmen Vince Reffet and Fred Fugen breaking the world record for highest jump from a building after leaping off the Burj Khalifa last year.
Dream Jump Dubai entertained local residents as well as those who took part, with Dubai native Saud Al Anazi telling The National: "It is an exciting spectacle to wake up in the morning and see people free fall past your balcony."
This is yet another example of the wide range of events on offer in Dubai, which are helping the emirate's authorities work towards the target of attracting some 20 million tourists per year by 2020.
Naturally, this is good news for the city's hotel industry as it stands to benefit from the increased number of people who will be staying in the emirate, be they business travellers, families, or adrenaline junkies looking to leap from the top of Dubai's towering skyscrapers.