Dubai beachfront gets new canteens for food festival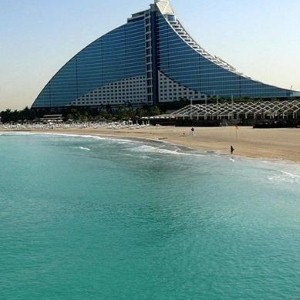 Visitors to the Dubai Food Festival will be welcomed by the sight of 16 new beachfront canteens.
News agency Zawya reports the huts are the first of their kind in the emirate and will be serving a variety of different cuisines, including Mexican, Thai and Italian. The pop-up restaurants will be located in three locations, Jumeirah 1 Open Beach, Sunset Beach and Kite Beach and will run until March 8th.
Officials are expecting the temporary new additions will further enhance Dubai's growing reputation as a hub of fine food and are hoping the inaugural Food Festival will have the same positive effect generated by Shopping Festival.
Laila Mohammad Suhail, chief executive officer of the Dubai Festivals and Retail Establishment, commented: 'The beach canteen is just one of the many exciting gastronomic events that aim to create awareness among tourists about the interesting diversity of foods and flavours in our city. Dubai is already known as a hub for shopping and lifestyle, but we also want to tell the tourists about the amazing gastronomic experience they can have here when they visit.'
Visitors to the Kite Beach site will be able to experience traditional Egyptian cuisine from Hadoota Masreya, Italian delicacies from Giolitti and salads by Saladicious, among others. It will have a lively atmosphere, comprising of DJs, graffiti art and free yoga.
Meanwhile at the Sunset Beach, festival-goers will be treated to sushi from Kyo Cafe, and French fare from La Provence. Entertainment will be provided by Arabian music, decor and lighting. Finally, the Jumeirah 1 Open Beach location will offer light bites from Cafe2Go, maneesh from Lebaneesh and an assortment of bread buns at Roti Mum Cafe.
In addition, visitors to festival will also be able to experience fine food as part of the Dubai International Boat Show. The Nobu restaurant at the Palm is set to offer a special menu, comprising of Black Cod, spicy Miso and a large selection of sushi, among other delicacies.