Dubai Aquarium unveils world's first 'Discovery Channel Shark Week' attraction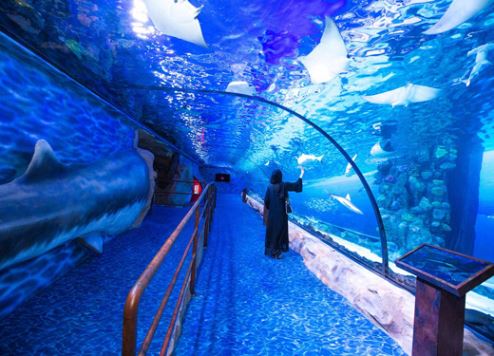 Dubai Aquarium & Underwater Zoo has launched a first-of-its-kind 'Discovery Channel Shark Week' exhibit in association with OSN, the Middle East region's leading pay-TV network
It marks the next phase of a partnership between Emaar Entertainment, the leisure and entertainment subsidiary of Emaar Properties, and Discovery Consumer Products, the licensing arm of Discovery Communications.
An embodiment of television's longest-running must-see summer TV event, this sensational addition to Dubai Aquarium & Underwater Zoo is the world's first official 'Discovery Channel Shark Week' exhibit. The new exhibition brings the iconic TV franchise to life, providing visitors with a glimpse into the fascinating world of sharks through a truly innovative and interactive experience.
Paul Hamilton, general manager and Curator of Dubai Aquarium & Underwater Zoo, said: "At Dubai Aquarium & Underwater Zoo, we're passionate about educating the public on these incredible and often misunderstood creatures. The 'Discovery Channel Shark Week' exhibit invites visitors into the incredible world of sharks in a truly innovative way that both educates and entertains. The new exhibition is a key facet of our commitment to shark conservation along with our other initiatives such as the shark artificial insemination programme we inaugurated in 2015."
Located through the second floor entrance to Dubai Aquarium & Underwater Zoo, the first stage of the customer journey takes place in the world's first interactive digital shark cage. Situated under the hull of a research ship protruding from the wall of the Aquarium, the digital cage was designed exclusively by LG for the exhibit. The exterior of the digital cage features an awe-inspiring scene of Great White sharks circling a cage of divers.
On entering the cage guests will find themselves at the centre of the shark dive, watching as the Great Whites swim around them. Innovative technology allows guests to 'interact' with the sharks whilst simultaneously learning about their biology. Stay alert though, from time-to-time the on-screen sharks have a surprise in store for unsuspecting visitors!
The main exhibit is also a world-first merging digital technology with a living aquarium. It features a 20-metre aquarium demi-tunnel, with the back wall of the tank formed of LG LED screens. Guests can choose their favourite shark species to swim on the LED background, bringing the heroes of Discovery Channel's 'Shark Week' to life.
Stars of the new 'Discovery Channel Shark Week' exhibition include new residents such as the Scalloped Hammerhead Sharks, Sandbar Whalers, Blacktip Reef Sharks and Bonnethead Sharks.