Dubai announces approval of AED 700m flyover projects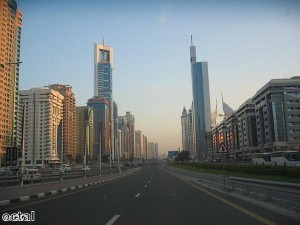 Dubai's municipality government has announced the approval of two new road projects.
The schemes, which are worth a combined AED 700 million (£114 million), will see the creation of a bridge to connect the Bluewaters Island project to the mainland. Additionally, a flyover will be constructed to link up International City to the Dragon Mart.
Mattar Al Tayer, chairman of the board and executive director of the Roads and Transport Authority (RTA), stated the 1,400m long viaduct will consist of two lanes in each direction and will also contain a dedicated track for the monorail system. In addition, slipways and junctions will be constructed at Jumeirah Lakes.
The Bluewaters Island is a new major tourist attraction, located off the coast of the Jumeirah Beach Residence. It will be the home of several retail, residential, tourist and recreational facilities. A bazaar will also be included as part of the development, alongside a walkway containing several outdoor restaurants. In addition, the island will be home to the Dubai Eye, the world's largest ferris wheel. Officials hope the new project will welcome three million tourists each year.
Reports stated the RTA would seek to award the contract for this initiative during the second quarter of this year. It is estimated to cost around AED 500 million.
Meanwhile, the International City project will stretch from Sheikh Mohammad Bin Zayed Road to Nouakchott Road and from Al Aweer Road to Al Manama Road. It will consist of a flyover at the intersection of Al Aweer and Nouakchott roads and a U-turn facility for vehicles moving out of International City, in the direction of Sheikh Mohammad Bin Zayed Road.
When completed, the scheme will bypass a distance of over 7km. The initiative will also see the existing entry point to International City being widened, with the addition of an extra traffic lane. Signals will also be updated, allowing free turns in all directions.
The proposals were outlined by the vice-president and prime minister of the UAE, Sheikh Mohammed Bin Rashid Al Maktoum.