Dubai airports 'will surpass 100m passengers'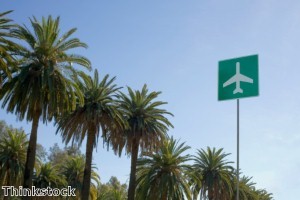 Dubai Airports is expecting to surpass its target of welcoming 100 million passengers by 2020.
According to annual reports, the company already recorded a 15.3 per cent growth in traveller numbers last year to reach 66.5 million. This is compared to the 57.7 million witnessed in 2012. In addition, aircraft movements grew by 7.5 per cent from 344,245 to 369,953.
The double-digit growth has put Dubai International firmly on course to overtake UK's Heathrow as the world's busiest international airport by 2015. Its efforts will be buoyed by the construction of the new Concourse D, which is due to open by the first quarter of next year. The area will serve as the new home for 100 scheduled carrier airlines.
Emirates 24/7 reports this upward trend is already continuing during 2014, as the organisation revealed it welcomed 12 million passengers during the first two months of the year, an increase of 12.8 per cent against figures achieved over the same period in 2013.
Meanwhile, Al Maktoum International Airport in Dubai World Central is expected to help the company achieve its targets, as it reported an increase in revenue of 17 per cent in 2013. The transport hub was also boosted by a record number of holidaymakers passing through its doors and a large contribution from commercial activities.
Paul Griffiths, chief executive officer of Dubai Airports, commented: '2013 was a year of mapping out and preparing what appears to be a bright and busy future for Dubai Airports. Our traffic projections show that we will have more than 100 million passengers passing through our airports by 2020.'
He added the company's expansion plans, codenamed SP2020, were progressing well, with the project to enlarge Terminal 2 expected to be completed later in the year. In addition, the firm is also working to grow its cargo mega terminal, which remains on track to be finished by the middle of 2015.