Dubai Airports chief has high hopes for the future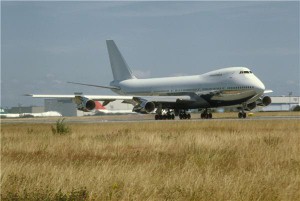 Chief executive officer at Dubai Airports Paul Griffiths believes the UAE's aviation industry will continue its impressive rise.
In an interview with Gulf Business, Mr Griffiths said the government realises that tourism is crucial to the nation's economy and this is why so much money has been invested into Dubai's airports.
His organisation runs Dubai International Airport - which recently became the second largest on earth based on annual passenger figures - and Dubai World Central.
The latter has only accommodated cargo planes up until now, but plans are in place to launch passenger services later this year, which will help to take some of the strain off Dubai International.
Mr Griffiths was quoted as saying: 'The aviation industry's contribution will continue to rise. The outlook is very strong.
'We are seeing incredible numbers. Our traffic grew 20.6 per cent in March, which is a huge number. No other airport in the world sustains this level of growth and volume.'
He added that Dubai International Airport wants to become the biggest and best on earth, although achieving this will be a big challenge.
Mr Griffiths suggested that high oil prices are 'difficult to manage' and can force airlines to ramp up their fares, thus affecting consumer demand.
He also thinks there are a few structural obstacles to overcome, such as constraints on air traffic control capacity.
That said, Dubai International's recent performance has been superb and many aviation experts expect the facility to overtake London's Heathrow as the busiest airport in the world.
Figures published by Dubai Airports showed the complex witnessed an 18.7 per cent rise in passenger numbers in April 2013 when compared with the corresponding month in 2012.
April was the fifth consecutive month that more than five million people passed through the airport and was the ninth successive month that double-digit growth was recorded.
The airport continues to undergo major expansion work and the aviation hub is currently capable of handling 75 million passengers a year, though this figure is set to rise very soon.