Dubai Airport to reopen northern runway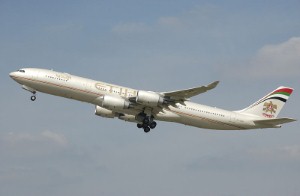 Plans to reopen Dubai International Airport's (DXB) northern runway are on schedule, meaning the 80-day refurbishment will end on July 21st 2014, allowing the global hub to retain the accolade of world's busiest airport.
Once the runway is officially reopened the airport will return to full capacity and will be back on track to handle 70 million passengers during this year, DXB confirmed in a statement.
Paul Griffiths, chief executive of the airport, said: "The opening of the northern runway and ramp up to a full schedule, when combined with the upcoming Eid holidays, will result in a significant surge in passenger numbers from July 21st."
The refurbishment project involved resurfacing 4,000 metres of runway, upgrading the existing lighting and constructing additional taxiways and rapid exits on the southern runway. The improvements have been made in order to accommodate the increasing number of airplanes travelling to Dubai.
Last month, it was revealed that in the first quarter of 2014, DXB handled the most visitors compared to any other global travel hub, meaning it had finally overtaken London Heathrow as the world's busiest airport.
In the first three months of this year, 18.4 million international passengers passed through the doors of Dubai's airport, compared to the 16 million that landed in Heathrow. This means the emirate experienced growth of 11.4 per cent, whereas London's traffic increased by just 0.5 per cent in the same period.
However, due to the runway closure, DXB's capacity dropped by 20 per cent, meaning it's victory over Heathrow was short lived. If the project goes to plan and the northern runway reopens on July 21st, the airport will be back on track to handle the 70 million passengers predicted to land in Dubai.
According to the Centre for Aviation (Capa), over the last ten years, traffic at DXB has more than tripled. Conversely, traffic at Heathrow has stagnated during the same period. Back in 2004, the London airport handled the most passengers in the world, whereas Dubai's airport sat in 45th position.
DXB has been able to achieve enormous growth in a relatively short space of time, and has further plans to increase its capacity from 75 million to 100 million by 2020 - a project that will cost around $7.5 billion (£43.8 billion).