Dubai Air Show opens to large orders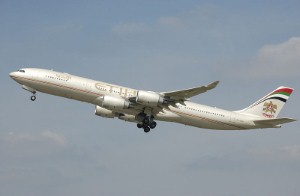 Dubai Air Show started yesterday (November 17th) and saw a number of new orders from various businesses.
The opening day involved big sales for manufacturers, with Boeing reporting record breaking figures for the purchasing of its new 777X - it sold 259 of these to four major airlines across the Middle East and Europe, including Etihad Airways. At list prices, the transactions total over $95 billion (£58 billion).
Etihad Airways, a partner of The First Group, used the prestigious event to make its largest ever order to expand its range of aircraft. It will be adding 117 Airbus and 82 Boeing models to its fleet, as well as 294 engines - in total, the company's investments amount to $67 billion.
President and chief executive officer of Etihad Airways James Hogan said: 'These aircraft orders provide the next step in our long-term growth strategy. They are about meeting the needs of the next ten years, and beyond, as we grow further and faster than ever before.'
The company's latest acquisitions include 25 of Boeing's 777Xs and 30 787-10 Dreamliners, the latter of which Etihad Airways is now the biggest customer for, having purchased 41 in previous orders.
This news on the first day of the event alone marks the strong significance and importance it holds in the aviation world, with many businesses announcing such large purchases during the occasion.
Group manager of Taurus Doug Emslie told the BBC: 'We are seeing a massive shift in buying power to the Middle East and Asia. It is makes sense that people will come to where the buyers are.'
Such a towards this region, with Dubai and its airshow at the very centre, can be seen in the likes of Etihad's business. It currently has 86 aircraft in its fleet, a figure far outsized by its current orders and a strong sign of confidence for businesses in this part of the world.