Dubai Air Show breaks all records with $114bn-worth of orders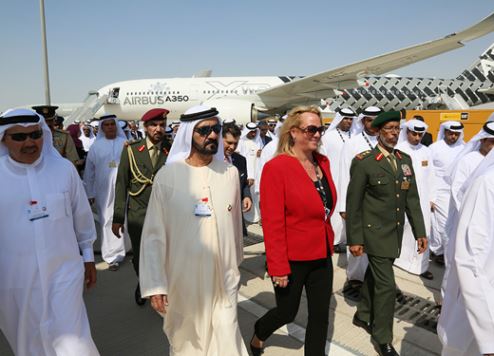 The 2017 edition of the Dubai Air Show broke records once again, with US$114 billion-worth of orders placed at the event, organiser Tarsus F&E Middle East has revealed.
Dubai-based Emirates, now the world's largest international airline, announced a $15.1 billion commitment for 40 Boeing 787-10 Dreamliners on the opening day of the show. The airline's chairman and chief executive, HH Sheikh Ahmed bin Saeed Al Maktoum, said the first Dreamliners would be delivered in 2022, "taking the airline well into the 2030s".
"Some of these will be replacements so that we maintain a young and efficient fleet, and others will power our future network growth," he said.
"We see the 787 as a great complement to our B777 and A380 fleet, providing us with more flexibility to serve a range of destinations as we develop our global route network."
Boeing also inked a $27 billion deal with the emirate's low-cost carrier, flydubai, for 225 aircraft in its 737 MAX family, representing the largest-ever single-aisle jet order from an airline based in the Middle East.
The 15th edition of the Dubai Air Show, which took place earlier this month (November), will be remembered for "game-changing deals from start to finish", according to Michele van Akelijen, managing director of Tarsus F&E Middle East.
It included Airbus revealing its single biggest aircraft order– a $49.5 billion deal with Indigo Partners to purchase 430 aircraft in its A320neo family.
Mega orders aside, trade delegates to the event were also up around 20% on the 2015 event, with some 79,380 visitors entering the purpose-built hall at Dubai World Central during its five-day run.
"The figures speak for themselves – it's been another successful year," said van Akelijen.
"Dubai is geographically at the centre of the global aviation world, and Dubai Air Show is where the sector comes to do business. We have seen incredible unmatched deals, innovations and ideas."
The event, which is staged bi-annually, will return to Dubai in 2019.