Dubai aims 'to be the global forefront by 2021'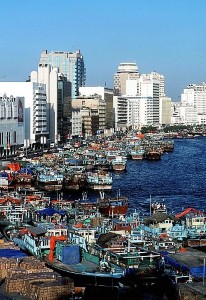 Back in 2007, Sheikh Mohammed Bin Rashid Al Maktoum launched an ambitious eight-year plan to transform the emirate into a smart, environmentally friendly, and sustainable city by 2015.
The recently announced Dubai Plan 2021 wants to take it to the global forefront during the next six years. This scheme is a vision of a city full of happy, creative and empowered citizens, that life in an inclusive and harmonious society.
It will transform the emirate into a preferred place to live, work and visit and a pivotal hub in the global economy. The plan will be coordinated by the government and all institutions to ensure Dubai becomes the world's 'smartest city'.
Sheikh Hamdan Bin Mohammed Bin Rashid Al Maktoum, crown prince of Dubai, told Asharq Al-Awsat that he has joined the team behind the plan on 'a beautiful journey' over the last 13 months during preparations for the launch.
'We also used modern communication methods, including social media, in order to widen the scope of the discussions regarding the plan and ensure including the largest possible section of the population so they can be the main partners in these development plans, and to ensure that we are adhering to its specific goals,' he said.
Sheikh Al Maktoum added that he is very optimistic about the plan because Emiratis have been involved in deciding the goals and the panels and committees within governmental entities in Dubai will ensure everything goes according to plan.
He believes that the plan considers the community in the emirate, while also factoring in Dubai's status as a major focal point for the global economy and ensuring that a wise government continues to play a role in the development process.
A strong infrastructure is one of the most important factors in achieving the goals outlined in the plan, according to the sheikh. He added: 'We are very proud of the fact that the UAE is ranked first in a number of lists of the world's best national infrastructures.'
All the investment that has been made in recent years has had a direct positive effect on social and economic sectors, as the emirate has made sure the infrastructural changes meet the needs of both residents, businesses and tourists in Dubai.