Dubai 3rd most dynamic business city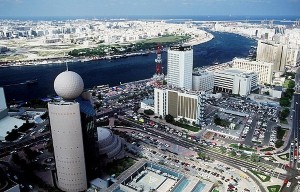 Dubai has been named as the third most dynamic city to do business globally.
A study by Jones Lang LaSalle highlights how desirable the location is becoming, as only San Francisco and London were voted ahead of it.
The City Momentum Index looked at the pros and cons of 111 business hubs, factoring in various socio-economic goals and commercial considerations to find out how attractive the city is in the long-term.
Other locations that feature highly are Shanghai, New York and San Jose. Dubai's presence in the top five is backed by its standing as a major global gateway and trading hub. According to Jones Lang LaSalle, Dubai is bouncing back after the recession, with property prices starting to rise.
'Growth appears to be on a sounder footing than in the pre-crash years of 2006-2008, underpinned by the city's strong global connectivity ... as well as its position as a preferred staging point for an increasingly dynamic sub-Saharan Africa. Furthermore, winning the bid to host Expo 2020 has given the city renewed confidence and momentum,' the real estate company stated.
Adaptability is central to long-term success and this is why Dubai is well placed, as the emirate has been able to change to meet the new economy in terms of innovation and infrastructure.
The latest benchmark makes for good reading for those considering making investments in Dubai, as the city is prepared to make the most of global opportunities as the markets return to pre-recession levels.
As part of the research, raw GDP growth is not the only thing taken into consideration. In order to get a more complete view of city momentum, speed of adaptation, innovation and the creation of cutting-edge new businesses are also factored in.
The research confirms that internationalised elite cities are wielding ever greater economic might and are the clear beneficiaries of globalisation, while the advent of technology has also played a significant role.