Dubai: 2020 and beyond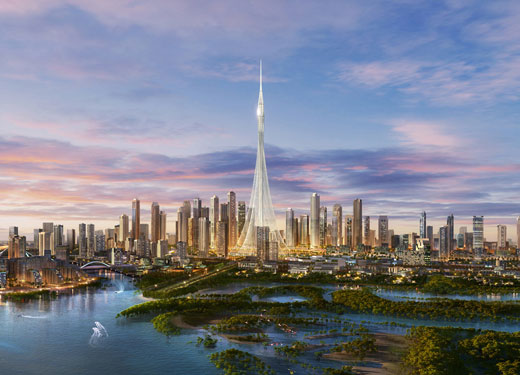 Dubai's tourism sector is at the forefront of the city's massive infrastructure investment push in the lead up to Expo 2020
With 25 million visitors from the UAE and across the globe expected to descend on the World Expo site in Dubai South during the event's six-month run from October 2020 to March 2021, Dubai is investing billions in new services and attractions designed to accommodate this massive influx and showcase the city to a global audience, with a view to the future.
According to a report published by BNC focusing on expo infrastructure spending, Dubai has committed more than $34 billion alone to funding more than 200 transport projects, which are set to open by 2020.
From a new Metro line that will transport 46,000 passengers every hour to the Expo site from Dubai Marina in under 16 minutes, to the massive expansion of nearby Al Maktoum Airport, and dozens of new hotels, hotel apartments, and tourist attractions, Dubai is investing billions in infrastructure that will hold it in good stead not just in 2020, but in the decades to come.
Winning the right to host Expo 2020 "reinforced Dubai's status as a leading global metropolis and a hub for business, thereby stimulating growth across the corporate and leisure tourism sectors," says Issam Kazim, CEO of Dubai Corporation for Tourism and Commerce Marketing (DCTCM), the emirate's peak tourism body.
"As we prepare to welcome 20 million visitors in time for Expo 2020, the emirate's public and private sectors are working to bring quality projects to Dubai to continuously enhance the city's proposition."
Kazim highlights a number of major developments as key drivers in Dubai's 2020 tourism equation.
"Mega-developments set to dominate the 2020 skyline include Bluewaters Island, featuring the spectacular Ain Dubai observation wheel, and Dubai Creek Harbour with its majestic observation tower, which is set to become the tallest building in the world," he says.
"While projects such as these are sure to grab the headlines, Dubai is also continuously working to enhance the visitor experience through other cross-sector initiatives and developments."
Dubai has made good progress on its stated target of attracting 20 million foreign visitors by 2020. In 2017, the city welcomed 15.8 million overnight visitors, which was a new record for the emirate and represented a 6.7 percent increase compared to 2016.
Dubai was also named the fourth-most visited city in the world for the second consecutive year in MasterCard's 2017 Global Destination Cities Index, while it also accrued the highest international visitor spend of any city worldwide, with the total figure exceeding $31 billion in 2017.
Accommodating all of these visitors has led to a boom in hotel investments across the emirate. According to STR's January hotel pipeline report, Dubai has the single largest hotel pipeline of any city in the world, with more than 50,000 new guest rooms planned or underway. To put this figure into perspective, the emirate's current hotel room inventory stands at just over 100,000.
Other analysts predict an even greater number of rooms to join the city's hotel inventory by 2020. EY, for example, expects the number to reach 164,000 by the time Expo opens in October 2020.
However, according to Kazim, Dubai is already looking beyond Expo 2020 with an ambitious plan to establish Dubai as the world's most popular leisure destination and one of its most important business hubs.
"Achieving our 2020 Tourism Vision is not our end goal – it is the springboard that will stimulate ideas and initiatives that will drive the economy forward and boost the knowledge-sharing community," he says.
"Post-2020, tourism will continue to thrive as the sector works to further diversify the city's offerings, developing innovative campaigns that emphasise Dubai as the ideal destination for leisure and business.
"Hosting Expo 2020 will also reinforce our capabilities to host bigger business events and congresses, which will ultimately account for a rise in business visitors and delegates."