DMC announces Dolphin Residence project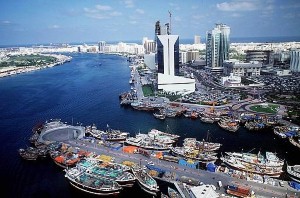 Dubai Maritime City (DMC) has announced a major new project after forming a partnership with Sharaf Investments and Al Ali Property Investment (API).
The Dolphin Residence will be located within the city and features offices, a four-star hotel, private residences, leisure facilities, a mosque and a shopping centre.
Work on the scheme will begin immediately after DMC's chairman Khamis Juma Buamim signed a deal for the project with Sharafuddin Sharaf, vice chairman of Sharaf Investments and Mohammed Abdulrahim Al Ali, chairman of API.
It is expected the development will be completed within the next three years. Mr Buamim hailed the fact that the maritime industry is one of the major sectors in the emirate and the Dolphin Residence will 'be a defining development that will add to the unmatched lifestyle within the vibrant maritime culture and environment that Dubai Maritime City nurtures'.
He added: 'We have envisaged a superior development with superb finishes, exemplary décor and a range of amenities suited to modern living. It will add value to the industrial and business district of Dubai Maritime City, which is already seeing rapid development and progress.'
Mr Sharaf stated that his company is proud to be involved in the venture and pointed out the centre is set to become a 'hub' for the maritime industry in Dubai.
DMC is one of the fastest growing parts of Dubai and it is likely the Dolphin Residence project getting the green light will lead to other developments springing up across the area in the coming months and years.
As the aim of the project is for the exterior facade of the building to become an architectural landmark, it is also possible the Dolphin Residence will help to set the tone for the burgeoning region for many years to come.
DMC is located near the international airport and cruise line hub at Port Rashid, providing connectivity to regional and international business centres, as well as significant networking and logistics opportunities.