Diego Maradona: I have found my second home in Dubai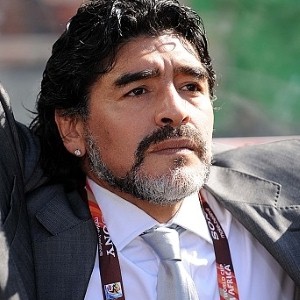 Footballing legend Diego Maradona insists that Dubai has become his second home.
The Argentinean has extended his contract as an honorary ambassador with the Dubai Sports Council and will continue to raise the profile of the game in the UAE.
Although the city is a long way from his homeland, the World Cup winner is clearly happy to stay in the Middle East and is said to be delighted to have secured a new one-year deal.
'I am far away from home but in Dubai I have found my second home,' he remarked.
Maradona has stated on previous occasions that Dubai is capable of hosting the very biggest sporting occasions on the planet and once even went as far as saying the sheikhdom is the 'Disneyland of sport'.
The city's facilities are among the best in the world and numerous professional football and cricket teams flock to the emirate every year to take part in warm weather training camps.
Maradona is particularly keen to get more local youngsters involved in football - something that will inevitably improve the quality of the national team in the future.
The UAE has a crop of talented youngsters, many of whom impressed during the 2012 Olympic Games.
According to the ex-Barcelona and Napoli star, a number of projects aimed at youngsters between 12 and 16 have been set up.
He told the National: 'When the football players are 18, it is very late. That's why we want to start preparing them from the age of 12 so that when they arrive for big football, they will be ready.'
Last week, the same news provider reported that talks are being held to bring the Italian and English national teams to the UAE for friendly matches.
Leaders of the Gulf country's football association hope this will raise the profile of the nation and will give soccer fans a unique opportunity to see some of the finest players in the world in the flesh.