Destination Dubai: Top new attractions to visit during Expo 2020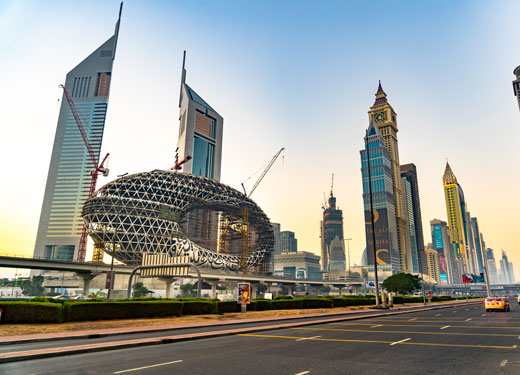 From museums to malls and mountain retreats to desert camps with a difference, the emirate is offering a range of new experiences designed entertain and delight visitors attending 'The World's Greatest Show'
Dubai has no shortage of mega attractions, from iconic buildings and offshore islands to shopping and entertainment experiences, but in the run-up to Expo 2020, the emirate is ramping up its destination offering to give travellers more reasons than ever to visit. Here's a rundown of some of the top attractions set to debut in 2020.
Al Wasl Plaza
When Expo 2020 opens its doors in Dubai South on 20 October 2020, the event will unveil one of Dubai's most impressive attractions yet – Al Wasl Plaza, located at the heart of the Expo site. Providing capacity for 10,000 visitors, the plaza will feature fountains, waterfalls, parks and a palm-lined courtyard. At 65 metres high, Al Wasl dome will also become the largest 360-degree projection surface in the world, providing an unparalleled entertainment experience for visitors inside and outside of the plaza.
Ain Dubai
The world's tallest observation wheel, Ain Dubai, will open on Bluewaters Island before Expo opens its doors. Standing 250 metres, it will be 80 metres taller than the current world record holder in Las Vegas, and almost double the height of the London Eye.
Museum of the Future
The striking silver eye-shaped Museum of the Future will open on Sheikh Zayed Road next year, housing a research centre, classrooms and a space for visitors to experience new technologies. It will also fund and market ideas for futuristic prototypes and services.
Sonara Camp
For a desert dining experience with a difference, Sonara Camp has just opened as the first permanent licensed concept of its kind in Dubai. An eclectic menu awaits visitors seeking a sunset feast amongst the dunes with dishes ranging from Arabian-inspired delicacies to Eastern and Western fusion cuisine, as well as French delights.
Nakheel Mall
The latest mall to open in Dubai is located on the iconic Palm Jumeirah and features 350 shops, restaurants and leisure attractions over five floors. Highlights include a massive trampoline park and a giant food hall.
The View at The Palm
Connected to Nakheel Mall, Dubai's Palm Tower will stand majestically at the entrance to The Palm Jumeirah when it opens next year. The tower will feature The View at The Palm – a 240-metre high observation deck providing sweeping views over the manmade islands and Arabian Gulf. It will also be home to one of the world's tallest infinity pools, providing 360 degree views from atop the tower. 
Mohammed bin Rashid Library
Located at Al Jaddaf and overlooking Dubai Creek, this seven-story library, designed to resemble an open book, is on track to open next year. The library will hold more than 1.5 million volumes, one million audio books and two million e-books.
Madame Tussauds
The world-famous waxwork museum Madame Tussauds will make its Middle East debut in Dubai next year. Located at Bluewaters Island, Madame Tussauds Dubai will provide visitors the chance to snap selfies with lifelike waxwork doubles of celebrities, politicians, historical figures and royalty.
Meydan One
Taking Dubai's mall offering to yet another level, Meydan One, which is mooted for a H2, 2020 opening, will feature more than 550 retail outlets, 180 restaurants, and a raft of attractions including a 1km-long indoor ski slope as part of a 12,000 sqm winter village; a huge crystal lagoon; an electric go-kart track; and a giant dancing fountain.