David Haye eyes Dubai for comeback fight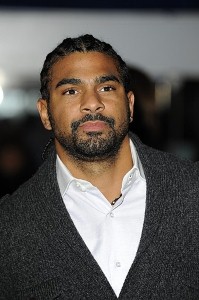 David 'The Hayemaker' Haye, British boxer and former World Boxing Association (WBA) heavyweight champion, has told Gulf News that he wants his highly-anticipated return to the ring to happen in Dubai later this year.
The 33-year-old athlete has now fully recovered from a shoulder injury that could have ended his career. He wants to celebrate his return in a fight with Dereck Chisora or Tyson Fury, depending on who is victorious in their bout next month. The comeback match will happen in either September or October and he wants Dubai to host the event.
He has already chosen the emirate as the location for his luxury Hayemaker Gym, which is hoping to break the world record for the biggest boxing lesson ever held this Saturday (June 21st).
Haye told Gulf News: "I want to have one of my big comeback fights in Dubai. It's no secret I want to become heavyweight champion of the world again and I want Dubai to be part of that.

"All my fights are sell-outs, I've fought in front of 50,000 people, but Dubai hasn't had that. People always ask me why there's no big-time boxing in Dubai. But there's a big market for it, people love boxing and high-end sport. It would also attract all the names from the movies and the music industry. Dubai could use a bit of that, as it's the perfect city for that sort of event."
Sporting events draw massive crowds, as tourists would be willing to travel across the world to witness history being made first hand. For example, it is estimated around 450,000 football fans will make their way to Brazil during the World Cup, which will boost the country's tourism and hospitality sectors significantly.
Dubai could experience a similar boost if Haye's comeback match happened in the emirate. Tourists would snap up tickets and hotel rooms to ensure they have a front row seat for another of the sporting world's once in a lifetime moments.