Cycling 'growing in popularity' in Dubai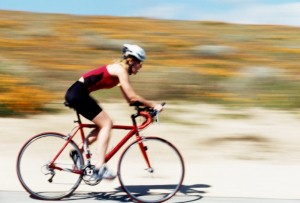 Cycling is becoming an increasingly popular pastime in Dubai as people embrace the environmentally-friendly form of transport.
One of the main concerns in years gone by was that there were not enough safe areas for cyclists, which meant journeys home could be hazardous and so many were put off.
However, Stewart Howison, co-founder of Cycle Safe Dubai, told Gulf News this is no longer a problem, as there are now a number of good locations for bikers, including Nad Al Sheba Cycle Path, Al Qudra Cycle Path and Jumeirah Open Beach Track.
Mr Howison also commented on the popularity of the activity, saying: 'The market growth for cycling has been phenomenal - it has gone from a handful of riders to many hundreds and that's just over the past three years.'
Cycle Safe Dubai was set up to encourage people to get out of their houses and take more exercise. The organisation takes over the 2.7 km Club Circuit every Wednesday and everyone is encouraged to come down and check out the route.
Simon Foy, business development manager at Revolution Cycles, thinks the facilities on offer dwarf the UK. The Roads and Transport Authority is also constructing more cycling routes so more people feel confident heading out on the roads.
In terms of the competitive side of the sport, Dubai is also seeking to encourage take-up. The inaugural Dubai Tour will get underway on February 5th and features four stages, with a total of 417 km to be covered.
Saeed Hareb, chairman of the organising committee, stated: 'This race will be the first of its kind in the UAE. Our focus is not on the prize money but more on what Dubai has to offer to the cycling and sporting worlds. Dubai has established itself as the second most popular sporting destination in the world.'