Curtain raised on region's first Broadway-style Bollywood show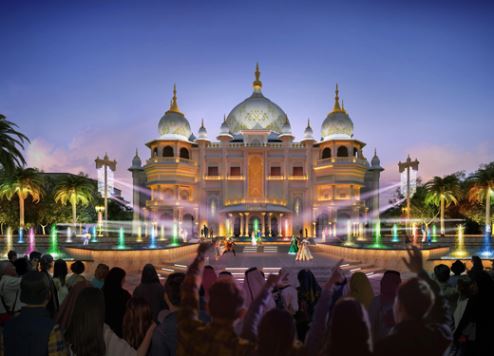 Bollywood Parks™ Dubai, part of Dubai Parks and Resorts – the largest integrated theme park destination in the region – has raised the curtain on Jaan-E-Jigar at its awe-inspiring Rajmahal Theatre.
It marks the Middle East's first Broadway-style Bollywood show and brings together storytelling, cinematic music, dance, stagecraft, technical wizardry and much more.
The one-of-a-kind extravanganza is packed with just the right amount of Bollywood masala in a spectacular two-hour performance.
Set in the fictional town of Ishqabad, Jaan-E-Jigar takes guests through the tale of twin brothers named Jaanbaz and Jigar Shiraz, in a classic story of good versus evil.
This magnum opus focuses on eight key characters whose journey explores a larger-than-life world full of magic, drama, music, dance, colour and all things 'Bollywood'.
Viraf Sarkari, founder of Wizcraft International Entertainment Pvt. Ltd, which was asked to conceptualise, produce and direct the musical almost two years ago, described Jaan-e-Jigar as "a world-class experience".
"It is nothing short of a magical journey encapsulating the best of Bollywood essence on stage," he added.
Guests get to know four pivotal characters, namely Salamat Shah, the benevolent king of the land of Ishqabad; his evil sister Marjaani, who truly believes that she is the rightful ruler of the land; Jaanbaz, the charming prince who is brought up to fight for righteousness and his kingdom; and Jigar Shiraz, the long-lost brother who is a fearless warrior amongst the subjects.
Supporting the lead cast are four as equally important characters, with the faithful guardian and advisor Jugnu whose loyalty to his kingdom and king is his life; the conniving Jester Nashook, who is ready to go above and beyond to win the love of the evil Marjaani; the enchanting beauty Gulpari, who steals the heart of the heir to the kingdom; and the fiery temptress Jharna, whose love for Jigar Shiraz takes her on a journey to the kingdom of love.
The show boasts some of the greatest Bollywood music from the last three decades strung together into a dramatic storyline. Top talent from the world of Bollywood, theatre and live events features in the show.
"Jaan-e-Jigar is the result of thousands of hours of rehearsals, efforts of more than 200 crew members, fabulous music and dances and breathtaking special effects, all in all, a complete paisa vasool," said Thomas Jellum, general manager of Bollywood Parks™ Dubai.