COUNTDOWN TO EXPO 2020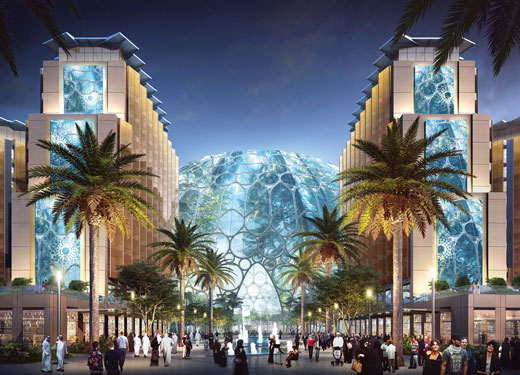 In this month's edition of our special Countdown to Expo 2020 series, we take a look at the event in numbers to assess its positive economic impact on Dubai and the UAE
Dubbed 'The World's Greatest Show' by event organisers, Expo 2020 is set to be the largest and most ambitious World Expo ever staged. The event will showcase the UAE as a modern, inclusive society; a global hub for commerce, trade and investment; and one of the world's most technologically advanced countries.
UAE officials have invested billions of dollars in building world-class infrastructure in support of the event. New road and rail connections; hotels and tourism attractions; the expansion of nearby Al Maktoum International Airport; and the Expo 2020 site itself in Dubai South, which has been developed as a purpose-built venue, have all been developed from scratch.
According to Najeeb Mohammed Al-Ali, executive director of Expo 2020 Dubai Bureau, the UAE and Dubai will reap the benefits of these investments for decades to come.
"From the start, the entire Expo site was built not only to host the World's Greatest Show, but also to create a brand-new city once Expo's doors close in April 2021," he says. "That city, known as District 2020, will be a welcoming, dynamic hub for innovation, collaboration and aspiration, and will form an anchor for Dubai's developing knowledge economy, a key pillar of the UAE Vision 2021 National Agenda."
Al-Ali says District 2020 will use around 80% of Expo's built structures – including Al Wasl Plaza, the Sustainability Pavilion and the brand new Dubai Exhibition Centre – "to create a 5G-enabled residential community and thriving hub for business that will exemplify a future UAE economy based on human potential".
"Staging such a large-scale, global event is an unparalleled opportunity to showcase our dynamism and hospitality and highlight our strong vision of the future as we carry this innovative and collaborative spirit forward for generations to come," he adds.
EXPO 2020 IN NUMBERS
US$33.38 billion
Expo 2020's anticipated economic impact on Dubai from 2013-31
$10.92 billion
The total value of government investments in local infrastructure and related assets developed in preparation for hosting Expo 2020
$2.42 billion
The forecast increase in hotel and hospitality revenues attributed to Expo 2020 during the event's six-month duration. The sector will account for 39% of all Expo-related revenues during this period.
25 million
The number of unique visitors Expo 2020 is forecast to welcome over its six-month duration
20 million
The number of international tourists forecast to visit Dubai in 2020, setting a new benchmark for the emirate
905,200
The full-time equivalent (FTE) job-years created in the UAE from 2013-31 as a result of Expo 2020
94,400
The number of new jobs created during Expo 2020's six-month duration from October 2020 to April 2021
53,800
The number of new jobs forecast to be created as a direct result of Expo in the decade following the event's conclusion during Expo 2020's six-month duration from October 2020 to April 2021
190
The number of countries exhibiting at Expo 2020 – the largest number in the event's history
1.5%
Expo 2020's peak contribution to UAE GDP in 2020-21
* All data courtesy of EY and Expo 2020 Bureau