Could the UAE become a breeding ground for engineers?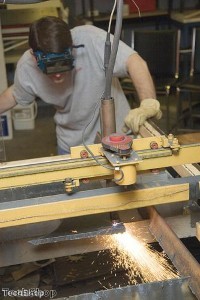 With so many foreigners choosing to emigrate to the UAE, it is important that the country has a solid education system.
The Gulf nation is always keen to attract wealthy and talented expats who can add a great deal of value to the economy and this is far easier if there is a good selection of schools, colleges and universities for these people to send their children to.
There are plenty of top quality educational institutions to choose from, including the University of Dubai, UAE University and the Masdar Institute of Science and Technology. There are also specialist facilities such as the British and American Universities in Dubai, which will obviously appeal to migrants from these countries.
According to a new study by HSBC, the UAE is steadily building itself up as an engineering hotspot, with more and more youngsters opting to take courses in this particular subject.
The research suggested that 84 per cent of residents are taking a vocational course, which is a much higher percentage than the UK, US and Canada, where subjects like humanities and social sciences are proving more popular.
HSBC compiled a table to highlight the most expensive places to study, in which the UAE came third. Although the average fees being charged by universities came in at £14,153, living costs were deemed to be much cheaper than in other parts of the world.
Indeed, academics were forking out just under £4,000, which was less expensive than everywhere except Taiwan, Germany, China and Spain.
Anne-Marie Koukourava, head of wealth for HSBC in the UK, explained why more people around the world are selecting vocational degrees.
'The combination of challenging employment prospects for young people with the introduction of higher education fees appears to have been the catalyst for a swing towards vocational university courses, which are seen as a safer investment in terms of graduate job opportunities,' she remarked.
With so many mega-projects in the pipeline, it is encouraging to see Dubai is steadily becoming a breeding ground for engineers, as the demand for people with such skills will inevitably rise in the future.