Could the Titanic II be coming to Dubai?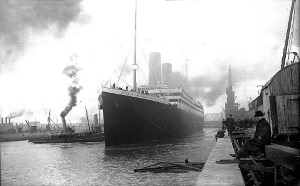 A replica of the famous Titanic ship that sank in the Atlantic Ocean in 1912 could be coming to Dubai.
Australian company Blue Star Line is planning to create a new version of the doomed vessel and will call it Titanic II.
The project is said to be gathering pace and it seems the UAE is now heavily involved.
According to Arabian Business, a number of Gulf-based investors are currently locked in discussions with Blue Star Line chairman Clive Palmer and the ship could be brought to Dubai once it has been completed in 2016.
James McDonald, global marketing director at the company, told the news provider: 'We have had a number of companies - large companies actually from the Emirates - we are in active discussions with that are looking at opportunities to utilise the Titanic II name and encourage the ship to come to the UAE to show it off to people there.'
The ship will be just as luxurious as the one that set sail from Southampton more than a century ago, but it will also feature cutting-edge modern technology.
Last week, Mr Palmer confirmed the appointment of Lloyd's Register to review the design and safety features of the gigantic craft - so it seems the scheme is moving forward at speed.
He highlighted Lloyd's Register's 250 years of experience of dealing with passenger ships and feels this bodes well for this particular project.
It will certainly be exciting for such a high-profile ship to dock in the UAE.
On the face of it, Dubai is tailor-made for such a lavish piece of engineering. The city is renowned for its glitz and glamour and the emirate is home to the biggest buildings on the planet, so welcoming one of the largest ships ever to be made - albeit temporarily - is only natural.
The sheikhdom is also accommodating another famous British boat at the moment - the QE2.
It has been docked in the UAE since 2008 and was supposed to be turned into a floating hotel, but the global economic crisis put paid to these plans.
However, the project is set to be resurrected, although the iconic Transatlantic liner is expected to be based in an as yet unnamed Asian destination.