Construction at CIEL Hotel Moves to the Next Phase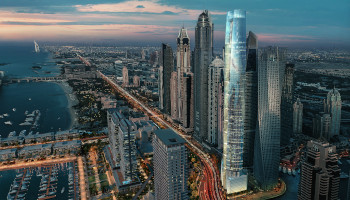 Progress at the construction site of CIEL hotel continues through April with the issuance of the plot demarcation certificate and construction mobilisation permit, clearing the way for construction work to begin in the coming months.  The shoring and piling work at the site are completed and tested successfully, and usher in the next phase of development of this future landmark.
Ciel promises to become another iconic addition to the Dubai skyline. With an exterior design that resembles a glass shard reaching for the sky, this 360-meter tall, 1,042-key hotel is set to become the world's tallest hotel when completed.  The hotel's design has already received several awards at London's 2019 International Property Awards for Best International Hotel Architecture, Best Hotel Architecture Arabia and Best High-rise Architecture Arabia
Like all our buildings, Ciel will not only deliver a great investment opportunity but also give owners a sense of pride.  Dubai already has one of the most spectacular skylines on earth and Ciel's addition to this landscape will create genuine excitement from owning a unit in one of the city's most exciting projects to date.