Construction and manufacturing drive Dubai's economy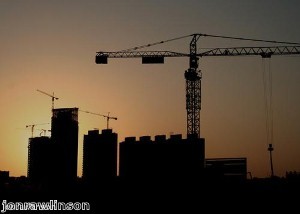 Dubai's economy expanded by more than experts first thought in the fourth quarter of 2012, a new report has suggested.
According to the Dubai Economic Outlook - Q4 2012 conducted by the Dubai Economic Council (DEC), the emirate's gross domestic product (GDP) increased by 5.3 per cent during the three-month period when compared with the corresponding quarter in 2011.
The organisation suggested that a strong upturn in activity in the construction and manufacturing sectors helped to drive the city's economy last year. The real estate market and retail industry thrived during the fourth quarter too.
DEC confirmed that property sales grew by 94 per cent year-on-year during the three-month period, with the average price per square metre going up by around three per cent.
Dubai also benefited from a sharp rise in visitor numbers towards the end of 2012. Indeed, the sheikhdom has become a popular winter destination, with the warm temperatures appealing to holidaymakers in Europe in particular.
In addition to this, the government's budget deficit fell to less than $2 billion (£1.3 billion) last year.
It was also a good period for imports and exports, with figures suggesting that total foreign trade was worth more than a trillion dirham.
Dubai's government has done a good job of attracting international companies to the Gulf and the growing number of free zones cropping up across the sheikhdom has certainly helped to boost the city's GDP results.
Last month, the Dubai Statistics Centre revealed that the emirate's GDP grew by 4.4 per cent throughout the whole of 2012 - its best performance since 2007.
Bloomberg reported that Dubai's GDP growth fell to just 2.7 per cent in 2009 following the global economic collapse, but it has fought its way back ever since, expanding by 3.5 per cent in 2010 and 3.6 per cent in 2011.
With the outlook for the tourism and construction industries continuing to improve, experts believe Dubai's economy will expand even further in the coming years, so now is the perfect time for investors to pour money into the emirate.