Ciel wins big at Dubai, Africa & Arabia Property Awards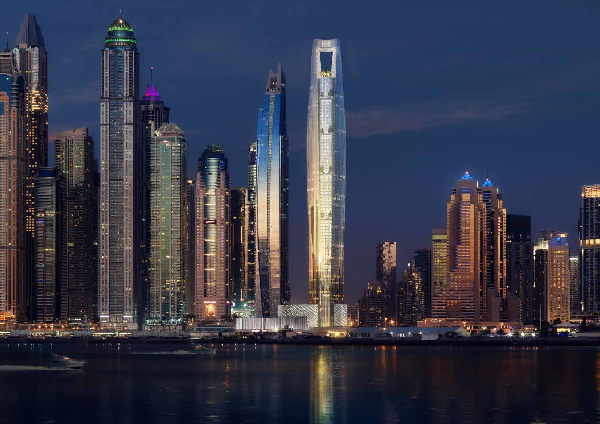 Ciel, The First Group's stunning hotel project currently under development in Dubai Marina – which will be the world's tallest hotel upon completion – has been honoured in four major categories at this year's prestigious Dubai, Africa & Arabia Property Awards.
The distinctive high-rise property was named among the winners in the Hotel Architecture, New Hotel Construction and Design, Commercial High-rise Development, and Residential High-rise Architecture categories.
Mariano Faz, VP of TFG Asset Management and Yahya Jan, President and Design Director at NORR Group Consultants International – the Canadian architectural firm responsible for Ciel's landmark design – accepted the awards on behalf of The First Group at a glittering ceremony staged in London.
Ciel will now vie with other major regional award winners from the Asia-Pacific, Europe, UK and the Americas, to be nominated in the 2019-20 International Property Awards programme, with the goal of being crowned 'world's best'.
"We are truly honoured to accept these awards for Ciel, which represents our most ambitious project to date," said Rob Burns, CEO of The First Group. "Ciel will set a new benchmark for luxury hotel accommodation in the heart of Dubai Marina and will become a popular destination in its own right.
"We have significant plans to expand our hotel portfolio in Dubai and Ciel demonstrates our intent to develop properties that showcase our innovative approach to architectural and interior design, as well as our commitment to providing world-class guest facilities and amenities."
Featuring a striking architectural design, Ciel is destined to become one of Dubai Marina's landmark high-rise towers. When completed, it will reach a height of 360 metres and will house 1,042 luxury suites. Highlights of the property include a glass observation platform providing 360-degree vistas across Dubai Marina, The Palm Jumeirah and the Arabian Gulf; and a rooftop area featuring an infinity pool, leisure deck and world-class dining facilities.
The Dubai, Africa & Arabia Property Awards are judged by an independent panel comprising more than 80 industry experts and chaired by Lord Caithness, Lord Best, The Earl of Liverpool, and Lord Thurso, who are all members of the House of Lords in the UK Parliament. 
The judging panel considers factors including design, quality, service, innovation, originality, and commitment to sustainability, when selecting winners in each category.