China ups the ante in world's tallest building stakes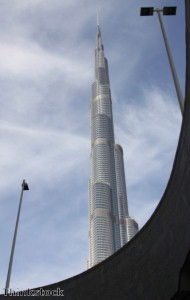 Construction developers in Dubai know a thing or two about erecting record-breaking buildings and the city is home to some of the most awe-inspiring towers on the planet.
However, the emirate now has serious competition from China, which is planning to trump the UAE's mammoth Burj Khalifa as the tallest skyscraper on earth.
The Sky Tower is being built on the outskirts of Changsha, which is situated in the Hunan Province. At 838 metres tall, the new development will be ten metres higher than Dubai's best offering and this could spark a building war between the two nations.
Dubai is not a city that likes to be outdone - a point emphasised by the fact that so many of its properties are in the Guinness Book of World Records.
Aside from the Burj Khalifa - which will remain the tallest tower on earth until the Chinese project is completed next year - Dubai also boasts the biggest mall, tallest residential building and highest hotel on the planet.
In fact, the sheikhdom has so many leading buildings that Guinness World Records recently decided to open an office in the city. The organisation spends so much time assessing the credentials of the emirate's projects that it made sense to set up a base in the area.
With this in mind, China's latest move will stick in the craw of Dubai's leaders and developers and it will be interesting to see how the city responds. Reports suggest the Asian economic powerhouse has plenty of other jaw-dropping construction plans in the pipeline, so Dubai certainly cannot afford to become complacent.
Earlier this month, Ahmed bin Sulayem, the executive chairman of the Dubai Multi Commodities Centre, revealed the emirate could soon boast the tallest commercial tower in the world.
He told the National that building the highest skyscrapers on earth is 'in the Dubai DNA' and the Jumeirah Lake Towers will raise the emirate's profile even further.
To officially clinch the record, the building will need to surpass the Taipei 101 tower in Taiwan, which stands 508 metres off the ground.