China names Etihad Airways 'Airline of the Year'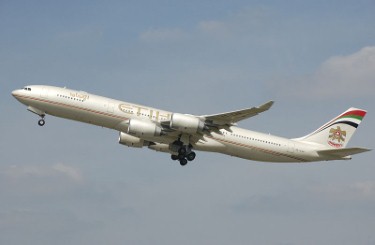 Etihad Airways has won the honour of being named 'Airline of the Year' at the 2015 Annual China Travel and Meeting Industry Awards, held on Friday May 8th.
The airline's achievement was unveiled at a glitzy gala ceremony in Shanghai that was attended by more than 200 senior executives from the Chinese travel and meeting industry.
According to the organisers, Etihad won the top accolade due to its market-leading product and service offering.
At the moment, the airline operates 21 services between Abu Dhabi and three major mainland cities in China: Beijing, Chengdu and Shanghai. It is set to strengthen its presence in the country during the year, with a daily trip to Hong Kong to be launched soon.
Commenting on the firm's achievement, Peter Baumgartner, chief commercial officer of Etihad Airways, said: "We have experienced the rapid growth of China's travel market firsthand since commencing our services to the country seven years ago.
"Despite strong competition from other airlines, Etihad Airways is today established as a carrier of choice for Chinese travellers, due to our extensive network connections, convenient flight timings and superior products and services."
He added that Etihad Airways is delighted to be named Airline of the Year by the China Travel and Meeting Awards and the firm is looking forwarding to expanding its network in the country.
In 2014, more than 340,000 Chinese tourists visited Dubai, marking an increase of 25 per cent compared to 2013. This is largely due to the Department of Tourism and Commerce Marketing's efforts in targeting travellers from the country in successful campaigns.
China is now the globe's largest outbound market for tourism, with visitors spending an enormous $130 billion (£83 billion) overseas, more than any other source market in the world, demonstrating how valuable this market is.