Carlos Santana performing at Jazz Festival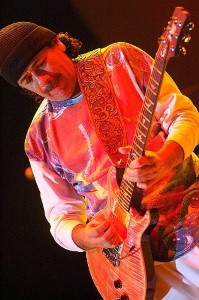 Guitarist Carlos Santana and his band have been announced for 2014's Dubai Jazz Festival.
Next year will be the 12th iteration and it will be taking place in Dubai Festival City from February 13th to 21st. Santana will be the closing act, performing on the last night .
This latest announcement sees Santana join the other acts already listed for the event - Stone Temple Pilots will be performing with Chester Bennington on the opening night, while Olly Murs, Jamie Cullum, The Wanted and Colbie Caillat are all set to make appearances during the event's run.
A spokesperson for the event said this year 'will have the biggest line up in the Middle East's festival history with a mix of music genres that makes the Dubai International Jazz Festival an event for each and every one'.
The news highlights Dubai's growing and expanding presence for musical entertainment. In addition to the likes of the Dubai Jazz Festival, Sandance Festival and Dubai Music Week, the emirate continues to draw large international names throughout the year - musician Eric Clapton, for instance, will be performing at Dubai Media City Amphitheatre on March 6th next year.
This is the first time the guitarist has performed in the city and, like Santana, it shows Dubai's active draw and appeal for international music stars.
Speaking to Gulf News, Santana said: 'The Santana band brings a sincere energy that is very contagious. That energy and the high standard we bring compliments the audience in Dubai perfectly. We are really looking forward to going back. We love playing there!'
Despite its name, the festival itself does not focus on jazz, but offers a wide range of genres and style. The benefit of this is the event can be seen as an occasion by many music lovers, not just niche enthusiasts, which helps bring people into the sheikhdom.