Career-driven expats 'content in the UAE'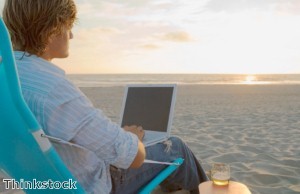 Expats living in the UAE are among the most content in the world when it comes to satisfaction with their new home country, according to a new survey.
The Expat Explorer 2014, undertaken by global bank HSBC, revealed that a significant number of professionals are heading to the Middle East looking for better job prospects and to boost their incomes.
To conduct the survey, HSBC polled 9,300 respondents from over 100 countries, 963 of which worked and resided in the UAE, assessing expat attitudes towards their host countries
According to the study, it appears the dreams of those heading to the UAE are becoming a reality, with 76 per cent of those surveyed being in full-time employment and 70 per cent confirming they have been able to earn more compared to what they could have in their home country.
As the Middle East is known for its striking architecture and modern towers, it comes as no surprise that nearly twice as many expats work in construction and engineering in the UAE compared to the global average - 16 per cent compared to nine per cent.
"A significant number of expats move to the Middle East looking for better job prospects and to boost their income. Indeed, the countries where expats are most likely to move abroad for these reasons are all in the Middle East," HSBC noted.
The UAE secured seventh position out of 34 destinations across the world in terms of satisfaction and contentment, ranking 15th overall. The majority of expats cited not having to pay taxes in the region as one of the main benefits of living there, with 66 per cent associating the UAE with a lower tax system.
Furthermore, the quality of life was highlighted as one of the main motivators of moving to the UAE, with 80 per cent of parents believe the area is among the top five safest places to raise their children and 66 per cent associated it with higher personal security.
The contentment of expats living in the UAE suggests more could be heading there searching for greener pastures in the future. This means now could be the perfect time to invest in property, especially in Dubai, where the government is making positive changes to infrastructure in the run up to the World Expo 2020.