Car companies plan big reveals in Dubai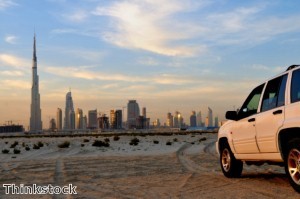 A number of big car manufacturers are planning to reveal their latest models in Dubai.
Both Aston Martin and Land Rover have announced such events, taking place during the Dubai International Motor Show between November 5th and 9th at the Dubai World Trade Centre.
According to Trade Arabia, Land Rover will be showcasing its Defender LXV, alongside a host of other models for next year.
This news shows the growing importance of the emirate in the motoring industry as such big, international names are favouring both it and Dubai International Motor Show, which takes place every two years, to make some of their most important announcements. It means an influx of business figureheads can be expected over the period.
Managing director for Jaguar Land Rover Mena Robin Colgan said: 'Since [2011's show] we have gone from strength to strength in the Middle East and North Africa region, with Land Rover sales up 38 per cent for the first half of our fiscal year - what better place than the Dubai International Motor Show 2013 to showcase the latest additions to the Land Rover line-up.'
Yet the event is not just for businesses, as these companies also cater to car enthusiasts and other passionate members of the motoring community. For instance, Aston Martin will be showing off its CC100 Speedster concept during the occasion. Dubai has a passion for luxury sports cars - as exemplified by the grand parade through the city on November 8th - which makes it a perfect place for such businesses.
General manager of Aston Martin Dubai David McDowell said it is important the company attends 'a world-class event like the Dubai International Motor Show' with an emphasis on providing luxury cars to the city - he stated the company's new workshop and showroom is an example of its efforts.
It will also include a number of side-activities and competitions, including Red Bull's King of Drift championships.