Burj Khalifa lights up to welcome Grand Tour trio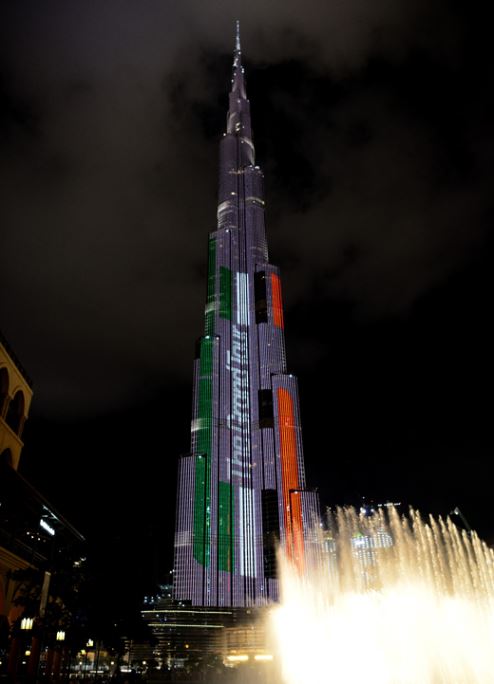 The world's tallest building has been lit up to celebrate the arrival of three world-renowned TV presenters to Dubai.
Jeremy Clarkson, Richard Hammond and James May – the trio formerly of Top Gear fame – filmed the final studio recording of their new hit show, Amazon Prime's The Grand Tour, in Dubai.
To mark the occasion, a huge projection spanning the entire Burj Khalifa featuring the UAE flag colours, as well as the programme title, was arranged to greet the three petrol heads.
The projection also showed cars racing up the building before revealing the presenters themselves in all their glory on what is also the tallest screen in the world.
Standing at 828 metres high, the Burj Khalifa is the equivalent of 487 diminutive Richard Hammonds.
He, Clarkson and May have been travelling the world filming the first series of The Grand Tour in various far-flung locations.
The team has already taken the show's mobile studio – a giant tent – to Johannesburg, California, Whitby, Rotterdam, Lapland, Stuttgart, Nashville and Scotland.
For its final stop, this novel studio was pitched at the base of the Burj Khalifa, which is located in the heart of Downtown Dubai.
Motoring fans were invited to be part of the live audience for the last show in the series, which was filmed on December 10.
Jay Marine, vice president of Amazon Video Europe, said that "after an epic whirlwind trip around the globe", Dubai was "the final chance for fans to join Jeremy, Richard and James".
Demand for tickets to the event, described as "the ultimate adventure and an experience to remember", was "incredible", Marine added, testament to Dubai residents' love of cars and the world's leading motoring presenters.