Burj Al Arab unveils world-first terrace experience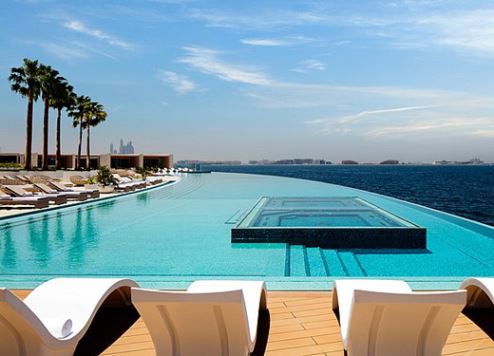 Dubai's seven-star Burj Al Arab has unveiled a one-of-a-kind outdoor leisure experience.
The spectacular Burj Al Arab Terrace has opened at the world's most iconic hotel – a unique 10,000-square-metre area featuring Scape Restaurant & Bar, a beach area with luxury day and sunbeds, two stunning swimming pools and butler-service cabanas.
In what has been declared a world-first in marine and off-site construction, the terrace was built at a shipyard in Finland and transported by ship to Dubai in eight pieces to ensure minimal disruption to guests and equally, the seabed and marine life.
The private facility stretches 100 metres out to sea and has been designed to reflect the shape of the Burj Al Arab.
Contemporary structures and tranquil stretches of water are linked by a central walkway, flanked either side by beaches and private cabanas, giving the effect of a "stylised tropical forest canopy", according to operator, the luxury hospitality firm, Jumeirah Group.
Burj Al Arab general manager Anthony McHale said: "As the world's most luxurious hotel, Burj Al Arab continuously evolves and re-invents the guest experience through state-of-the-art facilities. Burj Al Arab Terrace is the ultimate destination for indulgence, socialising and relaxing."
He said the facility was the "most ambitious project since the hotel was created" and a "global first in hotel construction".
Stefan Leser, group CEO, Jumeirah Group, described the Burj Al Arab Terrace as a "new Dubai landmark".
"A masterpiece in design and architecture, it reinforces Dubai as an outstanding destination and leader in global hospitality," he added.
Features include a 612-square-metre freshwater pool and an 828-square-metre saltwater infinity pool, both with Jacuzzis and a swim-up bar, while the al fresco location of Scape Restaurant & Bar boasts unparalleled views of the Arabian Gulf.
Here, head chef Timur Fazilov cooks up a delicious menu of Californian fusion-style dishes.
There are also 32 fully air-conditioned cabanas available for hotel guests and members. They can each accommodate up to four people and offer unrivalled poolside facilities - a dedicated butler service; a dining, beverage and bar menu; spa menu; fully stocked mini-bars; fresh fruits; espresso machines; Bang & Olufsen TVs and a rotating amenity cycle with four to six varieties per day. The eight Royal Cabanas also include a private bathroom, shower area and veranda.