British 'pilot' wins first World Drone Prix in Dubai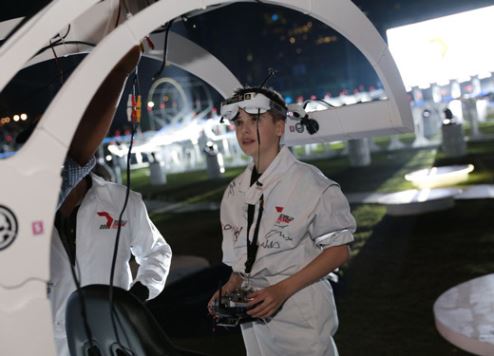 A 15-year-old drone pilot from the UK has received a cash prize of US$250,000 after winning the inaugural World Drone Prix in Dubai.
Teenager Luke Bannister skilfully flew his drone to victory in the world premier of this two-day event, which took place at Skydive Dubai.
He beat strong contenders from across the globe, with rival pilots hailing from countries such as Russia and The Netherlands.
The young pilot, part of the Tornado X-Blades Banni-UK racing team, was one of the more than 100 drone enthusiasts taking part in the first ever World Drone Prix championship.
Bannister was the youngest contender who made it to the finals.
One-hundred and fifty teams participated in the pre-qualifier rounds and pilots from these teams raced their drones for two days after which the top 32 were selected for the Grand Prix event. 
Each pilot donned a white Formula One style jumpsuit and goggles, which enabled them to view a live feed from a camera located on their drones.
The drones raced along a white track over 12 laps with the Dubai Marina and its skyscrapers as a backdrop.
The World Drone Prix 2016 was held under the patronage of Sheikh Hamdan Bin Mohammad Bin Rashid Al Maktoum, Crown Prince of Dubai and seeks to promote the advancement of drone sport and drone technology.
It was the first of many technology-focused races with Dubai Government announcing plans to launch the World Future Sports Games in 2017.
These competitions will include robotic swimming, running, wrestling and car racing. The World Drone Prix will also return in 2017.