Best Duty Free Shops' in Dubai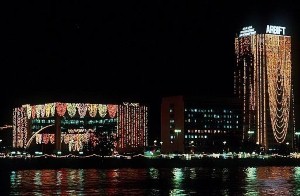 Dubai Duty Free (DDF) has won the title of 'Best Duty Free Shops' in the world.
It picked up the accolade during the tenth annual Global Traveler (GT) Awards, where winners are based on the results of GT Magazine's Tested Survey results, offering views straight from around 22,000 voters.
This is the seventh year in a row DDF has been named the best duty free retail body. It is a category that was only introduced seven years ago, with Dubai's body winning it every year since its inception.
DDF's executive vice chairman Colm McLoughlin said: 'It is gratifying to know that Dubai Duty Free is consistently seen as the very best in the business amongst the readers of the Global Traveler magazine, which is a US- based publication. We are delighted to accept this award for the seventh consecutive year and we thank all of those who participated in the survey.'
The award will now become part of DDF's growing portfolio of rewards. This year alone, it has scooped up Frontier's Best Airport Of The Year', Image RetailME's 'Most Admired Middle East Retailer of The Year', Drink Business Award's 'Retailer Of The Year' and DFNI's Asia/Pacific accolade for 'Middle East Travel Retailer of The Year', among others.
During the GT Awards, Etihad Airways - a partner of The First Group - was bestowed the title for 'Best Airport Lounges' and 'Best Airline for First Class'.
Furthermore, Dubai was also named the fifth best city for meetings, incentives, conference and exhibitions (MICE). The city hosts a lot of congress and business events, drawing in a large amount of MICE tourism - people who visit for business first, but nonetheless boost tourism figures.
DDF - which is celebrating its 30th anniversary this month - is an important stream of revenue for the city, as it overlaps the luxury shopping opportunities with the wealthy tourists by providing retail options at both of Dubai's airports.