Arabtec's net profits rocket by 121%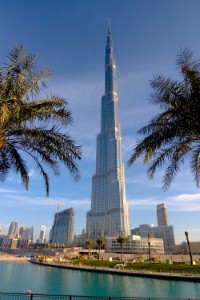 Arabtec Holding, the company behind the world's tallest building, has announced net profits of Dh138 million (£22.3 million) for the first quarter of 2014 - a boost of 121 per cent.
According to a statement released by the firm, its revenues increased by 39 per cent from Dh1.5 billion to Dh2.2 billion due to its success in the Gulf. The company also experienced a 15 per cent hike in the gross profit margin in the first three months of the year, as well as a seven per cent increase in its net profit margin.
Hasan Ismaik, managing director and chief executive officer of Arabtec Holding, believes the company's vastly improved performance is down to the fact operations have expanded and there has been a stronger delivery of projects in the region.
In the published statement, he said: "We continued to achieve high growth in profits and revenues, driven by our growing business in the UAE and the region, and more focus on delivery and profitability of projects.
'We are planning a series of acquisitions and mergers in the forthcoming period. We are targeting global players in such high margin sectors as oil and gas, power plants, infrastructure, and facility management of huge industrial plants.'
Mr Ismaik envisages the company transforming into a global leader in specialised segments of the construction industry in just four years' time. He added that planned acquisitions and mergers will lead to synergies "in terms of accumulated experience, enhanced cash flow and stronger brand.'
Arabtec has constructed 36 towers in Abu Dhabi for Aabar, has reached a deal for the Red Sea Astrarium in Aqaba and has be awarded with a contract to build 1,500 Emaar townhouses in Dubai. The company was also behind the construction of the Burj Khalifa, which is the world's tallest building.
The firm also recently revealed other projects that are currently in the pipeline, including the construction of one million housing units in Egypt worth Dh147 billion.