Aquaventure 'Third Best Waterpark in the World', declares TripAdvisor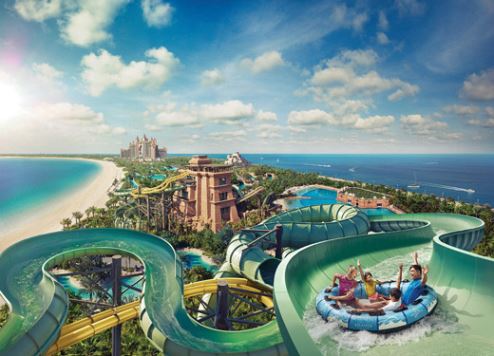 Aquaventure Waterpark at Atlantis, The Palm, has been named the 'Third Best Waterpark in the World' and 'Best Waterpark in Dubai and the Middle East' by TripAdvisor.
The eighth annual TripAdvisor Travellers' Choice Awards saw the top waterparks picked by global travellers, with the final selection based on millions of reviews and opinions left on the review website.
In comparison to 2015, Aquaventure Waterpark climbed an impressive two spots, overtaking Disney's Typhoon Lagoon Waterpark in Florida and Beach Park in Brazil to claim the title as Third Best in the World, after Siam Park, Adeje and Waterbom, Bali.
The 17-hectare beachfront waterpark also beat competitors in the region, securing the title of Best Waterpark in Dubai and the Middle East.
Situated on the apex of the Palm in Dubai, the award-winning waterpark is a firm favourite with celebrities, sports men and women and tourists from all over the world.
With thousands of 'excellent' reviews and images shared by guests on Trip Advisor, travellers love Aquaventure for its appeal to families and guests of any age. From thrilling rapids and diving with sharks, to taking on a mass of terrifying and record breaking slides, one reviewer describes it as 'A must in Dubai for the entire family!'.
It's been an exciting year for Aquaventure Waterpark, dominated by a viral campaign created in collaboration with Red Bull, which saw three of the worlds' best skateboarders take on the temporarily dry vertical slopes of Aquaventure's most daunting waterslides.
Taking Dubai and the world by storm, it was shown on more than 400 TV channels internationally and was seen by more than six million people – that's two times the population of Dubai.
Aquaventure also has a long list of celebrity fans who have posted photos of themselves enjoying the waterpark on social media.
They include Rita Ora, Paris Hilton, Mischa Barton, Colleen Rooney and Vin Diesel, to name a few.