Appetite for investment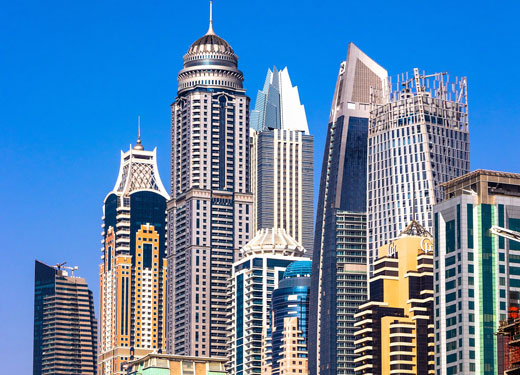 More than $15.8 billion-worth of real estate transactions were recorded in Dubai in the first quarter of 2018, once again proving the strength of the market and its popularity with international investors
Dubai's property market continues to go from strength to strength, with the emirate recording almost 14,000 real estate transactions worth AED58 billion (US$15.8bn) in the first quarter of 2018, according to new data published by the Dubai Land Department (DLD).
Dubai's property sector remains an investor's market, with the DLD data revealing the bulk of sales (9,092 transactions) were accounted for by cash purchases worth $5.2bn, compared to 3,717 mortgage-based transactions worth more than $8.33bn, and 950 other transactions valued at $2.28bn.
Commenting on the strong results, His Excellency Sultan Butti bin Mejren, Director General of DLD, commented: "The Dubai real estate market continues to show continuous growth, driven by general optimism and confidence in the real estate sector.
"Achieving almost AED 58 billion of transactions shows strong momentum in the real estate sector for Q1, and we expect this to raise the Q2 transaction index and continue to rally before the end of the year. Analysts and experts predict an upsurge as we enter 2019 with unprecedented strength, as many strategic infrastructure projects are due to be completed in Dubai in preparation for Expo 2020."
UAE nationals accounted for the majority of sales during the first quarter, according to DLD data, with 1,587 transactions worth $1.1bn made by 1,264 investors.
Indian nationals ranked second in terms of total sales, with 1,550 transactions worth $810m made by 1,387 investors.
Saudi investors ranked third with total sales worth $353m, followed by Pakistanis and British nationals, who took the fourth and fifth places on the list respectively. Ranking from sixth to tenth in terms of sales transactions were Chinese, Egyptians, Russians, Jordanians and Canadians, demonstrating the growing popularity of Dubai as a key destination for international property investors.
The Q1 results continue on the strong performance of the emirate's property market in 2017, a year in which it recorded 69,000 real estate transactions worth a total US$77.6 billion (AED285bn), up from 41,776 transactions worth $70 billion in 2016, according to the DLD.
Of the 2017 figure, foreign investors accounted for more than $15 billion-worth of property transactions. Gulf-based investors committed more than $10 billion to property purchases in the emirate, while Indian investors made $4.24 billion-worth of investments, Saudis $1.9 billion and Brits $1.6 billion.
Meanwhile, Pakistanis invested almost $1.4 billion in the emirate's property market. Other notable nationalities included Chinese, Canadians, Egyptians and Jordanians.
The fast-growing district of Business Bay once again proved the most popular location for property investment in the first quarter, with 973 transactions recorded worth almost $550m, followed by Dubai Marina ranked second with 720 transactions worth $373m.
The First Group currently has three hotel properties under development in the Business Bay and Dubai Marina districts. In Business Bay, the firm is developing Sky Bay Hotel, which will operate as a Ramada Plaza, and The One Hotel at Business Bay, which will operate under the Millennium Place brand, while in Dubai Marina it has TFG One Hotel, which will be managed by Wyndham Hotel Group and is scheduled to open in the second quarter of this year.
Other popular destinations for investment in Q1 included Al Barsha South Fourth, Al Merkadh, Jebel Ali First, Al Hebiah Fourth, Al Warsan 1, Al Thunaya 5, Al Yelayiss 2, and the Palm Jumeirah.
"These results have been achieved thanks to our commitment to our leadership's vision of achieving the highest levels of excellence and developing innovative services that enhance cooperation among investors," commented Bin Mejren.
"Dubai remains an attractive destination for investors seeking a safe return on investment, which is evident from the emirate's base of investors, who belong to more than 217 nationalities from all over the world."