Another iconic Atlantis announced for Dubai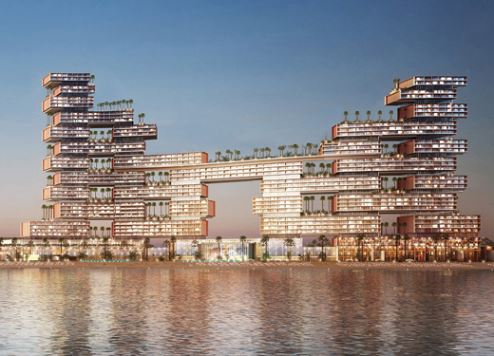 Move over Atlantis – a more luxurious sister property is about to join you on the crescent of The Palm Jumeirah.
Operating company Kerzner International has announced the launch of The Royal Atlantis Resort & Residences, which will be located adjacent to the existing mega resort on the famous man-made island.
Destined to become another Dubai icon, this striking modern property will be home to 231 residences and a hotel with 795 guest rooms and suites, occupying some 10 hectares of land on The Palm Jumeirah.
Once completed in 2019/2020, this luxury development could hit the record books with management revealing it will feature some 94 swimming pools – surely the most pools of any property worldwide.
This will include a 90-metre sky-high infinity pool experience, as well as individual pools for some of the hotel rooms and residences.
Another stand-out feature at The Royal Atlantis Resort & Residences will be a water, light and fire show developed by water feature creator WET, the company behind the Dubai Fountain experience. This is expected to become a tourism attraction, popular with guests and visitors alike.
Issam Galadari, director, The Royal Atlantis Resort & Residences, said the project would "build on the success of Atlantis, The Palm".
"This next phase of Atlantis will continue to drive the growth of Dubai, he said. "The development will become the new landmark of Dubai and will support the 'Dubai Plan 2021' in positioning it as one of the best places to live in the world."
Jean-Gabriel Pérès, president and CEO, Kerzner International, added: "The timing was right to build another iconic structure and to continue the Atlantis experience in a new way."