Al Maktoum to welcome an extra 300 flights each week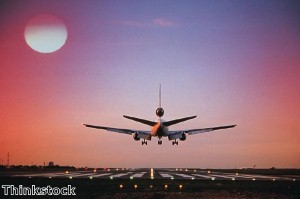 Around 300 flights per week will be redirected to Dubai's Al Maktoum airport next month.
Situated at Dubai World Central (DWC), the transport hub will take on the extra traffic for a period of 80 days, starting on May 1st. This is to allow for runway refurbishments to be carried out at the emirate's international airport.
Emirates 24/7 reports a total of 17 airlines have so far confirmed they will reschedule flights to run from DWC for the duration of the works, which are expected to last until July 29th. Bosses at the transport hub are confident it will be able to handle the extra workload .
Both runways at the international airport will be closed consecutively for the refurbishment and upgrades. Transport officials stated the project would help the airfield maintain its high safety standards, as well as increase capacity.
Dubai's second transport hub has already tested its new terminal to full capacity during the advanced passenger trial in October. Bosses said it will also serve as the emirate's alternative airport should any flight be diverted from Dubai International due to bad weather or any other reasons.
To prepare for the switch, air services provider Dnata will have to move equipment throughout the night of April 30th, so that DWC will be able to receive flights that have been redirected from Dubai International. Again, no problems are expected, as the company has already successfully completed a similar task during the Dubai Airshow.
Damien Bolton, head of operational readiness at Dubai Airports, stated: 'We will be using the airshow building to process passengers should any flights be diverted. It will allow passengers whose final destination is Dubai to clear immigration while those with connecting flights to be flown or bussed back to Dubai International.'
A luxury bus service will be implemented to ferry passengers between the two airports, while DWC has employed better processes at key areas to facilitate the movement of travellers. These include the addition of a specialised check-in section for holidaymakers solely carrying hand luggage.