Airlines offered discounts to fly from Al Maktoum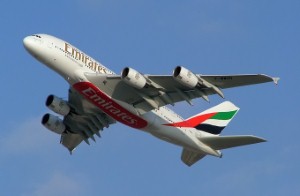 A number of airlines are being offered a lucrative opportunity to move their operations in Dubai from one airport to another.
Carriers have been told there is a discounted rate available if they wish to move out of Dubai International and into the new Al Maktoum International airport in the city when runway repairs take hold later this year.
Dubai International is set to close its southern runway from May 1st to 31st and its northern runway between May 21st and July 20th, so there is sure to be plenty of disruption and a reduced capacity will be in operation.
The work is essential and has been scheduled for some time, but it has left Dubai Airports thinking extensively about its summer schedule and the effect the closures will have.
A spokesperson for the organisation told Gulf News in an email: 'We are providing free landing for passenger airlines and free parking for up to six hours for airlines going to [Al Maktoum International] for the 80-day period.'
Some airlines will be forced to make a 50 per cent reduction to their schedule if they insist on staying at Dubai International, while major carriers Emirates and flydubai are facing the possibility of cuts of 22 per cent.
Emirates president Tim Clark used the recent Dubai Airshow as a chance to explain his company will not be taking the opportunity to split its operations in the emirate between the two airports. It will instead reduce capacity by storing planes at Al Maktoum.
Around a fortnight ago, flydubai said it is planning to shift some of its workload to Al Maktoum while the runway works go on. Royal Brunei is another that is planning to partially move out.
As things stand, 15 freight airlines and 28 passenger carriers have submitted an application to run some services from Al Maktoum while the runway repairs are carried out at Dubai International.