AED 2bn canal project underway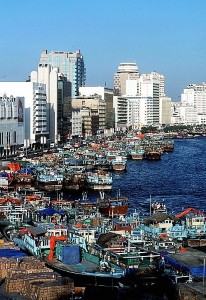 Work is underway to extend the length of Dubai Creek canal.
The AED 2 billion (£329 million) project got underway yesterday (December 26th) with digging near Safa Park, Gulf News reports.
This will form the first steps in an ongoing process to extend the creek
3 km between the Business Bay area and Jumeirah beach. This will cut through parts of Al Wasl Road, Shaikh Zayed Road, Jumeirah Beach Road and Safa Park, making a large part of Dubai an artificial island with water on all sides.
The Roads and Transport Authority (RTA) has contracted Mapa and Gunal Constructions for labour, alongside Halcrow and Parsons in a consultancy position.
An RTA spokesperson said: 'We are currently scanning for the underground cables and pipelines. Our idea is to shift the cables and pipelines from the area before we start excavation for the canal.'
Alongside this, a separate tender has been issued to build a 16-lane wide bridge on Shaikh Zayed Road to reconnect the gap caused by the canal. It will raise up to 8.5 m, allowing boats and yachts to pass underneath.
A third contract will be issued for a pair of six-lane bridges at Al Wasl and Jumeirah Beach Roads.
These latter two tenders will not start until after main work on the creek. Construction of the larger bridge will wait for sufficient plans to divert traffic to be established.
The RTA spokesperson stated: 'We will make sure there will not be any disruption to traffic. We will begin work on the flyover that will come over the canal on Shaikh Zayed only after making sure the diversion plan is smooth.'
Once completed, this section of the creek will become a new area with a heavy tourism focus. Various marine stations and jetties will be placed on either side, improving water transport and leisure activities.
Additionally, shopping, commercial and residential centres will be built along the sides of this new stretch,alongside up to 450 new restaurants. Safa Park will hold a 50,000 sq m shopping facility, six km of beaches and a waterfront leisure area some 80,000 sq m in size.