Adventure playground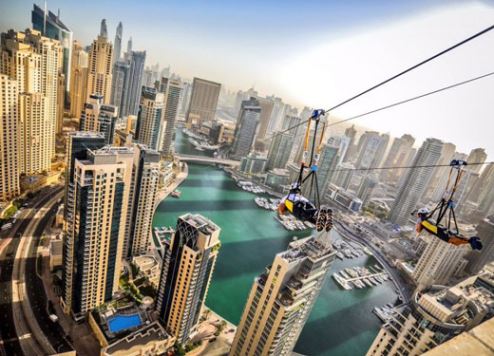 Dubai is looking forward to 2018 with some exciting new additions to its destination offering, from designer hotels to zip lines that whizz through the marina
World's longest urban zip line
Dubai is known for its world firsts and this month it's broken another record with a 1km-long zip line. Adventure sports operator XDubai has unveiled XLine, which whizzes through Dubai Marina at high speeds and takes zip-lining to a whole new level. It's being pitched as the world's longest urban zip line and according to its creator, it is also one of the steepest and fastest, boasting an incline of 16° that accelerates riders up to speeds of more than 80km/h. The XLine follows in the footsteps of the original which launched in late 2015 at The Dubai Mall over the iconic Dubai Fountain. However, the new XLine has doubled in length and offers daring duos the ability to experience it together through two concurrently-running zip lines. Also new is the superman style harness, which allows zip liners to channel their inner superhero with a flight-like experience as they zip from one of the Amwaj towers in Jumeirah Beach Residences, 170 metres in the air, weaving through skyscrapers and across water, down to the terrace of Dubai Marina Mall. 
Dubai's most expensive hotel
Bulgari Resort Dubai has opened its doors and is set to be the most expensive hotel in the city, according to local media reports. Until now, that title had been held by the seven-star Burj Al Arab, but the new property by the Italian jewellery brand, which aptly occupies its very own treasure island in Jumeirah Bay, will set guests back up to AED 22,000 (US$6,000) a night for a villa or suite. Bulgari CEO Jean-Christophe Babin has hailed the resort the "third landmark of Dubai" after the world's tallest building, the Burj Khalifa and the Burj Al Arab. It's a bold claim by the 101-room resort, which is adjoined by 20 villas, 173 residences and 15 mansions. It is certainly distinctive, filled with bespoke designs, Italian residential furnishings and vintage celebrity photos. Designed by Antonio Citterio Patricia Viel, it also features its own marina and yacht club, inspired by the marinas of Italy. It's the fifth Bulgari resort to open worldwide and as one would expect, features a boutique selling Bulgari watches and jewellery.
Light Up 2018
Dubai's biggest New Year's Eve celebration has been reinvented, with a mega light show set to mark the start of 2018 at the Burj Khalifa. The new 'Light Up 2018' show will use Downtown Dubai's building facades as an urban backdrop, developer Emaar Properties has revealed. It is not yet known if this will replace the famous fireworks display staged each year at the world's tallest building, but Emaar has promised a "very exciting concept that will delight the world". 
French farmhouse food revisited
The latest celebrity chef restaurant to open its doors in Dubai is Bleu Blanc in the Renaissance Downtown Hotel, serving "refined Southern French farmhouse cuisine". The first of two openings by celebrity chef David Myers, Bleu Blanc is a pretty venue, designed to emulate the style of a house in Provence. Diners can watch the chefs at work in the open-plan kitchen while they tuck into generously-sized and wholesome dishes.
Coming soon…
Dubai has announced an exciting line-up of entertainment for the New Year with highlights including:
Best of British
Legendary UK pop group Duran Duran will perform at the Emirates Airline Dubai Jazz Festival 2018. Front man and '80s icon Simon Le Bon and the band will take to the stage on February 21, belting out their timeless hits, as well songs from their latest Top 10 album. The following month, British pop, soul and blues sensation Rag'n'Bone Man will play a one-off show in Dubai as part of his current world tour. The artist, whose debut album 'Human' has sold almost one million copies in the UK to date, will perform at Dubai Opera on March 23.
Swan Lake debut
One of the world's most popular ballets, Swan Lake, will be performed by Houston Ballet at Dubai Opera next year. The ballet, which has enchanted audiences with its tale of good versus evil, interwoven with love and tragedy, will be stage at the iconic venue in Downtown Dubai from October 24 to 27 in partnership with Van Cleef & Arpels.