A taste of Dubai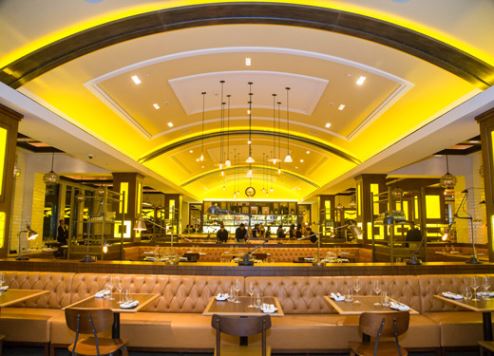 A round-up of some of the latest eateries to open in the city, from internationally renowned fine dining outlets to burger bars with a twist
Dubai is shaping up as one of the world's leading gastronomic cities. Home to celebrity chefs from around the globe, many of whom are opening eponymous restaurants at some of the destination's top hotels, the world's foodies are starting to pay attention to Dubai's vast offering.
And as new hotels, malls and precincts spring up all over town, so the number and variety of eateries continues to increase, whetting the appetite of residents and visitors alike. Here's our round-up of the recent highlights.
The Collective
Offering four diverse dining experiences all under one roof, The Collective, which opened at the Grand Hyatt Dubai in March, allows diners to sample dishes from the Levant Emporium, Grill Bar, Bombay Café and Bakery and The Beverage Bar. From cassis and torched meringue and grandmother's apricot tart, to smoothies, vegetable presses and fruit juices, this outlet provides a real treat for the taste buds.
Gordon Ramsay's Bread Street Kitchen & Bar
This famous modern European restaurant by British celebrity chef Gordon Ramsay, has made its way from London to Dubai, and is already making waves out at Atlantis – the mega resort on The Palm Jumeirah. The warehouse-style outlet is famous for British European dishes with a local twist, all made from fresh, and where possible, locally-sourced ingredients. It's laid-back, trendy and also offers an eclectic range of cocktails and daily specials.
*Editor's pick: Try the crab cocktail and lobster tagliolini; both highly recommended.
Olea
Following one of the Middle East region's biggest hotel renovations to date at a cost of US$100 million, Kempinski Mall of the Emirates has opened several restaurants, the newest of which is Olea, offering authentic food from the Levant region. Here, a team of Levantine chefs adopt traditional cooking methods and present dazzling tableside presentations of signature dishes. This home-cooking style restaurant is located next to a new exciting nightspot, NOIR, described as a "provocative lounge and cocktail bar" with indoor and al fresco seating and offering Shisha.
Muze
Souk Al Bahar in Dubai's bustling Downtown district is now home to a Mexican fusion restaurant and lounge concept. It's a striking venue with industrial décor, that serves Mexican-inspired dishes and cocktails against a backdrop of live music from the resident Cuban band and DJ. It's a novelty boutique lounge and restaurant that's buzzing with atmosphere.
Culinary Boutique
A brand new concept that combines cooking and dining in a homely villa in Jumeirah. Guests can choose from more than 100 cooking classes where professional chefs help them craft dishes spanning a wide range of cuisines, from Emirati fare to Peruvian specialities. Everyone gets to sample the results and if you don't fancy cooking yourself, there's a restaurant for diners who just want to pop in and pick something from the menu.
Burger and Lobster
Located in the heart of Dubai International Financial Centre (DIFC), this casual outlet serves up tasty lobster and burger treats as the name suggests – but with a difference. The succulent burgers are made from cuts of corn-fed Angus steak and the lobster is fresh from the Atlantic Ocean, with restaurant management claiming it keeps them in the biggest tanks in the industry to ensure their freshness. This is the home of simple, but satisfying meals – 10oz burgers and whole lobsters or lobster rolls, all served with chips and salad.
TAKE FIVE
INDIE Kitchen & Lounge
One of the newest kids on the block in Dubai International Financial Centre (DIFC) is the super cool Beiruti bar, INDIE Kitchen & Lounge, where the food and the atmosphere is informal. Small plates are a big hit here, from edamame beans and super corn to gambas ceviche and whole Spanish peppers. Located in Gate 5 village, just above Gaucho, the venue is dominated by a large circular bar and huge chandeliers with giant bare bulbs.
Brothaus
The smell of freshly-baked German bread is enough to lure guests inside Brothaus, the German restaurant at the new five-star Steigenberger Hotel in Business Bay, close to the Burj Khalifa. Traditional German dishes are also on the menu.
Milkcow
This ice-cream bar at Jumeirah Beach Residence (JBB) lets customers 'build' their order, with each creation signed off with a signature swirl on top. Choose from more than 14 flavours or let the 'Moo crew' create one for you, before you select a topping from a delectable range that includes 100 percent natural honeycomb and freshly-made macaroons.
Intersect by Lexus
A cross between a car showroom, a plush library, a designer shop and an art gallery, this hybrid café in DIFC serves healthy uncomplicated dishes. The kale and avocado salad is one delicious option.
Aubaine
From homemade pastries to avocado toast with slow-roasted tomatoes, toasted seeds and poached eggs, Aubaine at Dubai Mall allows you to breakfast like a king.