A retail reputation like no other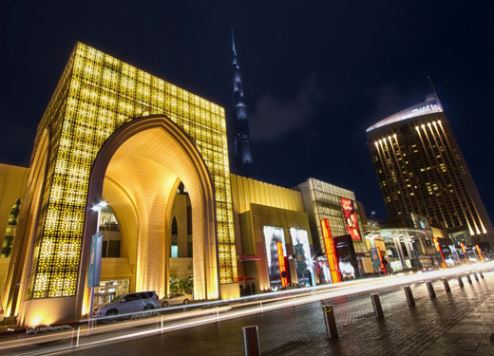 Dubai's status as a global retail hub has reached new heights thanks to rising consumer spending
Dubai's reputation as a premium global shopping destination has been aided by the development of some of the world's best and biggest retail and entertainment centres, from Dubai Mall to Mall of the Emirates.
With more mega malls planned and the number of residents and visitors to the emirate surging higher each year, it's no wonder the city's retail market is forecast to surpass $52 billion in sales by 2020 with average annual growth of more than 8 percent, according to a new report.
Retail sales reached $35.4 billion last year and are set to rise a further 7.7 percent this year, according to a report commissioned by the Dubai Chamber of Commerce and Industry (DCCI), based on Euromonitor International data.
The report reveals that store-based retailing drove 98 percent of the total value of retailing in 2015, and its pace of growth has surpassed that of non-store retailing since 2010.
"Growing economic prosperity, steady population growth, and rising incomes have all helped to increase consumers' overall expenditure in Dubai," confirms DCCI president and CEO, Hamad Buamim, who was speaking ahead of the recent World Retail Congress, staged in Dubai in April.
"In addition, the boom in tourist numbers has kept the wholesale and retail sector vibrant."
More than 14.2 million visitors flocked to Dubai in 2015, up 7.5 percent year on year, and Dubai Tourism's recently-revealed Q1 2016 statistics reveal the emirate welcomed 4.1 million overnight guests in the first three months of 2016, a 5.1 percent increase compared to Q1, 2015.
Visitors from one of the highest-spending markets in the world, Saudi Arabia, grew 14 percent to 476,000 during the period.
The Dubai Chamber analysis valued the non-grocery retail market at $22.3 billion in 2015, driven by a strong compound annual growth rate (CAGR) of 7.1 percent.
Dubai's trendy, youthful high-spend-per-capita population was a major factor driving this growth, the report says, with many keen to stay up to date with the latest apparel, footwear, health and beauty and luxury product trends.
For that reason, apparel and footwear retail outlets are set to lead growth in the medium term at a forecast CAGR of 6.6 percent and it will continue to represent the largest sub-segment under the non-grocery retailing category, says the DCCI.
Domestic consumer spending in the UAE increased by 13 percent in 2015 compared to 2014, according to another report by payment solutions provider Network International.
Overall card spending in the UAE rose by 9 percent over 2014, according to the study, based on credit and debit card transactions in the UAE.
It also found spending by UAE-issued cards remained by far the largest in value over the past two years, accounting for between AED 9-10 billion (US$2.45-2.72 billion) per month.
"The UAE economy, driven by diversification into non-oil revenues, has borne resilience to current market dynamics, as indicated by our analysis of card-spending data over the past year," says Network International chief commercial officer David Mountain.
"Our analysis indicates some strong trends that can be leveraged by retailers and merchants in the UAE to bolster marketing strategies."
UAE residents were the largest spending demographic last year, with visitors from the United States, Saudi Arabia, Qatar and Kuwait also making it into the top spenders list.
UAE residents showed the highest increase in spending in the F&B and hotel sectors, spending 23 percent more in restaurants in 2015 than in 2014.
Other GCC countries also made strong contributions, with Qataris leading the way (50 percent increase) followed by a 48 percent rise by Saudis.
Regional mall operators such as Majid Al Futtaim are reaping the rewards from the spending surge with the Dubai-based firm recently announcing a 29 percent hike in net profits to AED3.3 billion ($898.4 million) in 2015.
Revenue jumped 8 percent in a year that saw the successful opening of the new Mall of the Emirates 36,000-square-metre expansion.
Meanwhile, Emaar's Dubai Mall continues to prove among the world's most popular malls in terms of footfall traffic.
The shopping mall is not only among the world's largest, but offers the best overall shopping experience compared to international rivals, according to the latest Global Retail Destination Index 2016 by Savills.
The mega shopping centre ranked higher than London's Regent Street, New York's Fifth Avenue and the Champs-Elysees in Paris, in terms of quality of retail facilities and amenities, according to the report, which measured the various retail attributes of London's West End and compared them to six other leading cities - Dubai, New York, Paris, Milan, Hong Kong and Singapore.
A survey carried out as part of the report revealed 88.4 percent of respondents believed Dubai has the best choice and quality of shops in the world.
"Dubai is now perceived as a top global retail destination," says Core Savills CEO David Godchaux.
"But this is only the tip of the iceberg as we now start seeing developers trying to improve the shopping experience not only for tourists as in the past 15 years, but also for residents."