A 'new normal' for Dubai's thriving hospitality market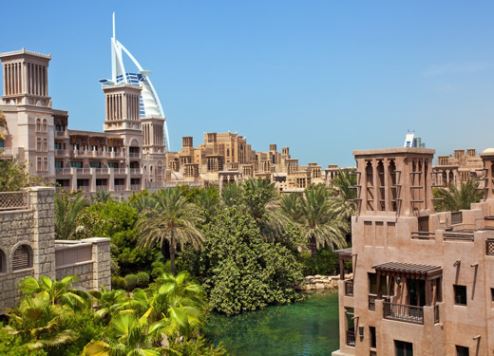 The emirate has all the fundamentals in place to support steady hotel sector growth in 2016 and beyond, says Deloitte
Hospitality industry experts have predicted a positive outlook for Dubai's hospitality sector in 2016 given the emirate continues to witness solid increases in tourism and air passenger numbers, coupled with significant investment in supporting infrastructure.
"We anticipate that given the market fundamentals, occupancy levels at around 70 to 75 percent are likely to represent the 'new normal' in Dubai in 2016," says Deloitte in the research firm's recently released Middle East Real Estate Predictions: Dubai 2016 report.
Deloitte says that as Average Daily Rates (ADRs) soften, it will encourage the growth in visitor arrivals required to support the investment in tourism infrastructure being developed over the coming years.
Hospitality market fundamentals in Dubai and the UAE were strong in 2015, laying the foundations for hospitality market growth.
Dubai International Airport retained its position as the world's busiest airport for international passenger traffic, which increased 12 percent year-on-year to more than 78 million, according to Dubai Airports.
The UAE was ranked 24th overall in the Travel and Tourism Competitiveness Index 2015, scoring number one globally for Government prioritisation of the travel and tourism industry and effectiveness of marketing and branding.
"The tourism industry is fundamental to Dubai's economy, with the emirate having the highest overnight visitor arrival expenditure globally, at approximately AED 17,146 per city resident," says Deloitte, quoting the Mastercard Global Destination Cities Index 2015.
Total visitors to Dubai hit the 14.2 million mark in 2015, up 7.8 percent year-on-year, according to the Dubai's Department of Tourism & Commerce Marketing (DTCM)/Dubai Tourism. The entity is targeting 20 million arrivals by 2020, which demands annual average growth in guest overnight stays of 7-8 percent over the next four years.
In order to prepare for this influx, 11 new hotels opened in Dubai in 2015, adding approximately 2,800 new keys to Dubai's inventory, with the greatest supply growth in the Upscale and Upper Upscale sectors.
This led to supply growth of 6.8 percent, which outpaced demand growth of 4.4 percent. It brought down occupancies by 1.4 percent to an annual average of 77.5 percent and ADRs by 7.4 percent.
"[But] these relatively moderate falls should not be viewed negatively, as Dubai still remains one of the best performing hospitality markets globally with regard to occupancy levels, positioned together with New York at 84%, London at 82%, Paris at 78% and Berlin at 77%," says Deloitte.
There are an estimated 31 new hotels due for completion in 2016, which will increase Dubai's hotel room inventory by approximately 14 percent (9,300 keys) to 76,500 keys.
Deloitte says that in the short term (2016 to 2017), the delta between hospitality supply and demand will widen, but in the medium term, demand growth will catch up with supply growth, as the market gains traction in the run up to Expo 2020.
"We consider that planned tourism infrastructure investment (including a number of major theme parks), Expo 2020 and the prospect of a GCC Schengen-style visa will all have a positive impact on demand in Dubai, driving up visitor numbers and average length of stay," says Deloitte.
Hotels that focus on a proactive marketing and sales approach and investment in refurbishment, will be best placed to compete for demand given increasing competition from the forecast new supply, the report notes.
"With plans to increase capacity at DWC and DXB airports to reach a combined capacity of approximately 97 million passengers in 2016, we foresee opportunities to capitalise on hospitality demand from transit and destination visitor growth and by promoting extended stayovers in the emirate," it adds.
And there's good news for investors in The First Group's growing portfolio of Dubai properties, with Deloitte predicting strong demand for 2016.
This will be "driven by source market trends, growing visitor demand for longer average lengths of stay and better value accommodation", it says.